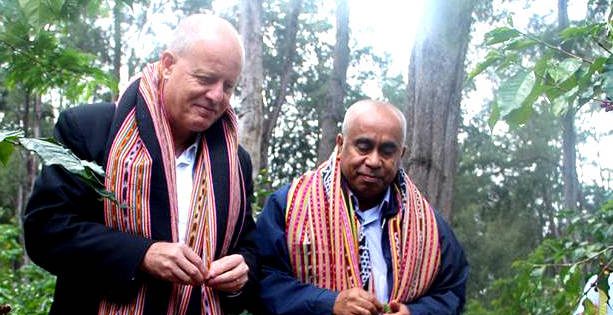 (September 9, 2015)
Beginning with a welcome dance and traditional chewing of the Bettle nut, the CACAO program was officially launched last week in East Timor with a lunch event for over 150 people.
Cooperativa Café Timor (CCT) hosted the New Zealand Ambassador to East Timor, Jonathan Schwass, First Secretary of Development Aid for the New Zealand Embassy, Alison Carlin and the East Timor Minister for Agriculture and Fisheries, Estanislau da Silva for the official launch of the new NCBA CLUSA program.
The five-year $10.5 million project, called Coffee and Cocoa Agribusiness Opportunities (CACAO), is funded by the New Zealand government and will be implemented in partnership with CCT, East Timor's leading private-sector employer and one of the largest single-source suppliers of certified organic Arabica coffee in the world.
During the launch event, the guests, including over 100 East Timorese farmers, visited a demonstration plot, picking coffee cherries and then bringing those cherries to the wet plant for processing. The plot and plant were a small example of how the CACAO program aims to increase business opportunities for East Timorese farmers in the coffee and cocoa value chains.
Under CACAO, CCT will identify 19,000 Arabica, Robusta and cocoa farmers in the country's western districts to participate in the project. Each farmer will receive seedlings and tools, including saws and pruning shears that, according to the grant agreement, are "critical" for effective farm rehabilitation, but largely unavailable in East Timor.
Guests received a farming package of a pruning saw, wet weather jacket and trousers, rubber boots, cloth hat, and small iron bar for working soil as an example of the items that will be distributed to farmers participating the coffee pruning program.
Participating farmers will also receive training from existing CCT extension staff on environmentally sustainable practices such as composting, erosion prevention and biological pest control that are compatible with organic and other ethical and sustainable production certifications. CACAO will work with select groups of local farmers to establish demonstration farms used for practical, on-field training, like the plot guests visited.
Many of the local farmers present expressed surprise at the increase in production after pruning in the demonstration plot, compared to traditional farming methods. Demo plots and farmer-trainers are a core part of the NCBA CLUSA agriculture model.
CACAO comes on the heels of NCBA CLUSA's USAID-funded Consolidating Cooperative Business Recovery (COCAR) project, which closed in 2014. COCAR oversaw the planting of 3.7 million coffee seedlings and rehabilitated more than 12,000 coffee farms. The project also introduced value chains for spices, cocoa and other commodities in high demand globally.