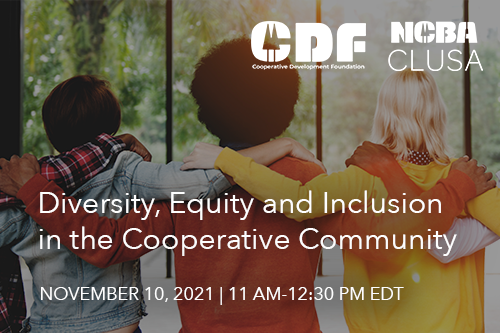 In 2020, a renewed focus on racial equity spurred cooperatives nationwide to thoughtfully reconsider their efforts to create truly inclusive businesses. Now, the results of a recently concluded survey reveal how co-ops are doing as they seek to implement best practices in diversity, equity and inclusion (DEI).
Join the University of Wisconsin Center for Cooperatives, in partnership with NCBA CLUSA and the Cooperative Development Foundation, on Wednesday, November 10 from 11 am-12:30 pm EDT for a webinar discussion of survey results.
Moderated by NCBA CLUSA president and CEO Doug O'Brien, "Diversity, Equity and Inclusion Trends in the Cooperative Community" will feature Dr. Laura Hanson Schlachter, researcher at the University of Wisconsin Center for Cooperatives and DEI survey author; Carla Decker, president and CEO of DC Federal Credit Union and chair of NCBA CLUSA's Board of Directors; Tamela Blalock, NCBA CLUSA vice president of Cooperative Relations and DEI cohort facilitator; and Leila Wolfrum, general manager of Durham Co-op Market and DEI cohort participant.
In Spring 2021, researchers at the University of Wisconsin Center for Cooperatives conducted a national, one-time survey to learn about existing efforts among cooperatives in the NCBA CLUSA/CDF community related to the ABCs of Co-op Impact framework. The survey, funded by a grant from the Robert Wood Johnson Foundation, asked about cooperatives' practices related to (D)emocratic governance and empowerment; (E)quity, diversity and inclusion; and the (F)inancial security and advancement of workers.
The survey also invited cooperatives to participate in a professionally facilitated, cross-sector peer-learning cohort that convened in mid-2021 for cooperatives looking to expand their DEI work.
The November 10 webinar will discuss the findings of the survey and highlight the strategies some cooperatives are using to approach the hard work of creating truly inclusive businesses. Don't miss this opportunity to get a first look at survey results and a peer-learning cohort report, in addition to remarks on the role DEI must play in co-ops that serve a diverse membership base and seek to recruit and retain a diverse workforce.
---
—A DEI survey report will be released in conjunction with this webinar. For details or questions, email Leslie Mead with the Cooperative Development Foundation.