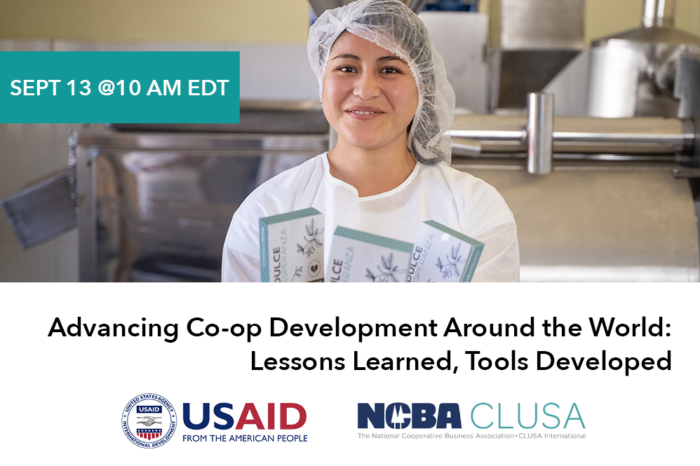 Join NCBA CLUSA's Creating an Enabling Environment for Cooperative Expansion team on Wednesday, September 13 from 10-11:30 am EDT to celebrate the impact of this five-year project funded by the U.S. Agency for International Development (USAID)'s Cooperative Development Program (CDP). As USAID's only program dedicated to advancing cooperatives around the world, CDP leverages the power co-ops, credit unions and cooperative ecosystems have to impact their communities.
Since August 2018, Creating an Enabling Environment for Cooperative Expansion (CECE) has worked to strengthen more than 60 cooperatives and 15 co-op support organizations in five countries—Guatemala, Kenya, Madagascar, Peru and Tanzania. From advancing co-op law reform and establishing the Co-op Business School to empowering indigenous women in Guatemala and incarcerated women in Peru, this project has a legacy of sustainable and inclusive development.
During this webinar, our CECE global and country directors will discuss project outcomes and lessons learned with a focus on inclusive and participatory governance and cooperative capitalization beyond member equity. These learnings will be relevant to cooperative development organizations and cooperative developers both in the U.S. and around the world. As an attendee, you'll get exclusive access to two new CDP/CECE learning papers on governance and member equity, where this project concentrated its efforts.
NCBA CLUSA will also share the four main cooperative development tools developed under CECE, which can be used to:
advance cooperative law reform
assess organizational capacity and monitor capacity-strengthening work plans
enable online training and peer-learning
center women's inclusion, empowerment and leadership in co-ops
Simultaneous interpretation of this webinar will be available in English, Spanish and French.
MEET THE SPEAKERS
Catherine Ford
Global Cooperative Development Leader and Consultant
Just Results (CECE Final Evaluation)
Juan Carlos Marenco
CECE Director, Guatemala
Allan Ngakonda
Executive Director
Rural and Urban Development Initiative (CECE Subawardee, Tanzania)
Lydia Omamo
CECE Director, Kenya
Camila Piñeiro Harnecker
Practice Area Director, Strengthening Cooperatives and Producer Groups
Abel Rakotonirainy
CECE Director, Madagascar
Carmen Rosa Chávez
CECE Director, Peru