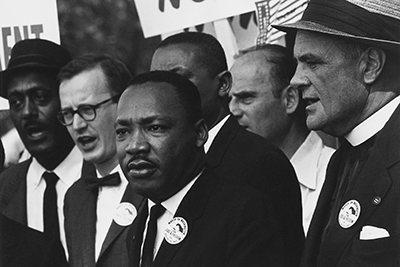 As we pause this week to honor the legacy of Dr. Martin Luther King, Jr., we celebrate his pivotal achievements in civil rights and economic justice. Dr. King inspired people of all backgrounds to strive for a more equitable nation. Through his courage, passion and tenacity, Dr. King transformed the world around him and continues to inspire generations of people committed to lifting up communities and championing a more equitable world.
One of the strategies that Dr. King and the Civil Rights Movement used—and that those who advocate for racial and economic justice still favor—is the cooperative business model. By coming together to own and control their own businesses, people can meaningfully participate in their economy, creating stable jobs, building community wealth and inspiring democratic participation.
Dr. King's dream is as relevant today as ever. As a society, we face the critical challenges of inequality, climate change, job instability and, relatedly, the influence of information technology on work and the broader economy. With each of these areas, we must ask how groups with historically less power will be empowered or treated. In the midst of these challenges, the cooperative community faces a generational opportunity: to demonstrate how member-owned, people-centered businesses help people work together to solve big problems.
Examples can be found throughout the cooperative business community. More than half (52 percent) of credit union CEOs are female compared to 5 percent of commercial banks and 6 percent of Fortune 500 CEOs.[1] In worker co-ops, the average entry wage is $16 per hour and the members are much more likely to be women and people of color.[2] For 52 years, the Federation of Southern Cooperatives has empowered African Americans in the U.S. Southeast to develop farmer cooperatives and credit unions. And, in one of the fastest growing segments of the economy, Cooperative Home Care Associates—a worker cooperative in New York—provides jobs for more than 2,300 people, the majority of whom are women of color and are paid at twice the market rate.[3] Housing co-ops are making home ownership a reality for low-income households and stabilizing communities. Food co-ops are increasingly using strategies to increase access to fresh and healthy food for the entire community. These and many more examples throughout the economy make plain that the cooperative way of doing business is founded in social and economic equity.
In 2017 NCBA CLUSA's board of directors set a new vision for the association. Reflecting the ideals of Dr. King, this vision charts a path for NCBA CLUSA as a collaborative partner in, advocate for, and driver of an inclusive economy, one in which people around the world are empowered to contribute to shared prosperity and well-being for themselves and future generations.
For the past two years our work at NCBA CLUSA has been guided by certain tenets of an inclusive economy: participation, growth, stability and sustainability. In 2020, we are focusing on equity and how cooperative businesses provide upward mobility for individuals and communities and greater access to goods and services. As we enter a new decade, NCBA CLUSA reaffirmed its commitment to championing an inclusive economy. In October, our board of directors adopted a resolution to lift up and advance Diversity, Equity and Inclusion (DEI) within the cooperative identity.
As we celebrate Dr. Martin Luther King, Jr., the cooperative community should consider our past success in helping build a more equitable world. More importantly, it is a moment to challenge ourselves to work together and lift up cooperatives as a strategy for greater equity in our economy and society.
—Doug O'Brien is president and CEO of NCBA CLUSA, where he works with the cooperative community to deepen its impact on the economy.
---
[2] A recent report found that almost 60% of the members of worker co-ops are people of color and more than 70% are women. This report is based on the participating 105 businesses, and only businesses that generated revenue and paid workers during FY2017 were included in the effort. For more information visit https://institute.coop/2017-worker-cooperative-state-sector-report.