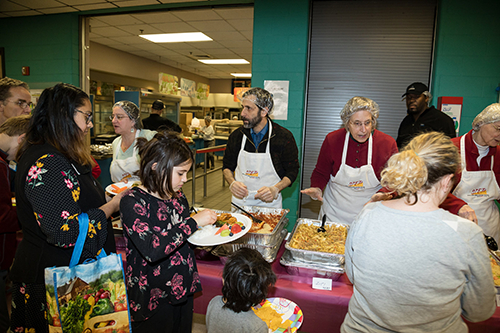 Now in its 25th day, the longest U.S. government shutdown in history is taking its toll. We know that this impasse is hurting the business community—including cooperative businesses—by throttling some federal payments, restricting key services and introducing deep uncertainty into the market.
And it is affecting countless individuals. For some Americans, that means long lines at the airport and national parks that are closed or messy. For others, it is much more serious and threatens the financial security of their household or business. For example, the 800,000 federal workers—and many more contractors who include janitors, security officers and kitchen staff—missed their first paycheck last Friday. Some furloughed workers are even wondering where their next meal will come from.
For 600 of them last week, it was a community potluck. My food co-op, the Takoma Park–Silver Spring Co-op, joined 17 local establishments in donating food and beverages for a community event in Silver Spring, Maryland that provided free dinner and entertainment for furloughed federal workers and contractors.
It's a small but meaningful example of how cooperatives are helping people find stability during the stress and uncertainty of the shutdown.
We know the cooperative business model uniquely equips people to stay resilient in the face of challenges—co-ops helped Americans stay afloat during the 2008 economic downturn, they're helping people take back control of their economy through democratic ownership and, right now, they're helping federal workers and contractors face an uncertain financial future.
Dozens of big and small credit unions across the nation are stepping up efforts to support members affected by the shutdown, responding with services like emergency interest-free loans, installment loan deferments and budget counseling.
"A government shutdown doesn't just affect the government, it affects the lives and wallets of the hard-working men and women that serve our community and country," Bill Birnie, president and CEO of Frontwave Credit Union in California told Co-operative News. "That's why we're 100 percent committed to fight for our members through these uncertain times."
The government shutdown is also affecting farmers, prompting many in the U.S. South to reach out to the Federation of Southern Cooperatives for support and guidance in stabilizing their farms.
Small farmers who typically submit farm loan applications to the U.S. Department of Agriculture in late December and January can't proceed until the government reopens. "The shutdown will have a domino effect as it ultimately leads to a decreased harvest, greater farm debt, and loan defaults that could translate to land and farm losses," Cornelius Key, the federation's Georgia State Coordinator, told The Skanner last week. Still, the farmers' cooperative is there to help them navigate through this challenging time.. At 51 years old, the federation has proven resilient in the face of many crises.
As we've witnessed time and again, cooperatives come to the aid of their members and communities, whether in the day-to-day provision of necessities like affordable housing, electricity and nutritious food, or extraordinary support in times of crisis, like we've most recently witnessed during the outpouring of supportfor NCBA CLUSA's team in Uganda.
As we all face the uncertainty of the coming weeks, let's remember that cooperatives are our best strategy to empower people in their businesses and communities—especially in times when those communities are most in need.
---
How is the shutdown affecting you? How is your cooperative responding? We want to share your stories. Send an email to info@ncbaclusa.coop to help us map the impact co-ops are having during this time of uncertainty.