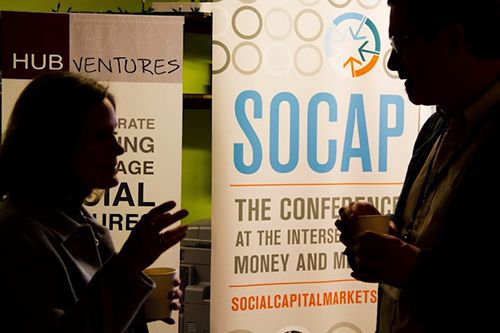 Cooperatives should be a key voice at the intersection of money and meaning, and several NCBA CLUSA members and supporters carved out space for the business model last week in San Francisco at the 2018 SOCAP Conference—the world's premier impact investment and social entrepreneurship event.
Hosted by Social Capital Markets, the SOCAP (or "Social Capital") Conference brings together more than 3,000 impact investors, entrepreneurs and social impact leaders dedicated to accelerating the flow of capital toward social and environmental good.
This year's conference featured an entire track on alternative ownership models, with a particular focus on cooperatives and worker-owned businesses, thanks largely to the leadership of co-op consultant and entrepreneur Camille Kerr, who serves on NCBA CLUSA's Council of Cooperative Economists.
Other NCBA CLUSA members and supporters who participated on panels at the conference included Ellis Carr, president and CEO of Capital Impact Partners; Brendan Martin, Executive Director of The Working World; Ed Whitfield, Co-Managing Director of the Fund for Democratic Communities; and Camille Kerr, Project Manager for Conversions to Employee Ownership at Transform Finance.
As the leading venue for conversations on how people can engage their economy—primarily through private businesses—to get more equitable and inclusive outcomes, SOCAP was the perfect setting to remind thousands of key thought leaders that cooperatives are a proven strategy people have used for generations to ensure they are empowered in their businesses and communities.
I participated on a panel on legislation that enables alternative forms of business ownership. The panel provided the opportunity to lift up the recently passed Main Street Employee Ownership Act and remind stakeholders how crucial it is for the cooperative community work with the Small Business Administration (SBA)—both locally and on the national level.
With sound advocacy for a sensible implementation, more co-ops will have access to SBA lending programs and technical assistance, with particular focus on people who want to form worker co-ops or convert an existing small business into a worker co-op.
During the panel, I reminded the audience that co-ops have historically transformed entire sectors of the economy relatively quickly—particularly agriculture, rural electric cooperatives and credit unions. These major shifts occurred when a large number of people identified a clear need that other types of businesses could not or would not meet, as well as policymakers willing to create an enabling environment for people to seek a cooperative solution. Each of these moments also featured a third crucial element: strong leadership from all levels of the cooperative community.
We are again in a cooperative moment—a time when more people feel excluded from their economy and should look to cooperatives as a preferred strategy to build a more inclusive economy. There is a clear need for cooperative solutions. Policymakers are showing real interest in policy to support cooperatives, and now we as a cooperative community must step up and lead.
We can do this by engaging state and federal policymakers such as SBA, lending our experience and passion to new cooperators, and presenting cooperatives as a preferred solution in venues outside the "cooperative tent"—especially during Co-op Month—as so many NCBA CLUSA members and supporters did last week at SOCAP.
To be sure, the only way we can capture the potential of this cooperative moment is if we all participate in moving forward our common mission to promote, defend and advocate for the cooperative business model. We have made broad and deep impact in the past, and we are poised to do so again.
—Doug O'Brien is president and CEO of NCBA CLUSA, where he works with the cooperative community to deepen its impact on the economy.