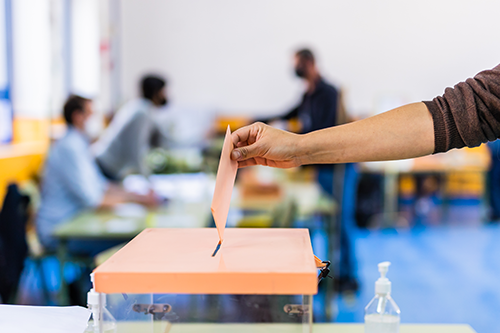 "One of the key benefits of co-operatives is that they help plant deep democratic roots within the fertile soil of civil society." – Guidance Notes to the Cooperatives Principles, p. 15
---
Commentators across the political spectrum are focused on the strength of our democratic institutions. As advocates of businesses defined by democratic member control and participation, cooperators should be leading this conversation. As confidence in government wanes, more and more people are looking to the business community to defend democratic systems and practices. Cooperatives should stand tall in this context, serving as both an example and advocate.
In a recent issue of the Principle 6 Newsletter, guest author Martin Lowery points out that cooperatives could play a pivotal role in helping people build the skillsets for a well-functioning democracy—but only if co-ops establish systems that preserve member education, meaningful member engagement, and an inclusive approach to hearing from all members. Lowery concludes by painting this picture: "Imagine the day that cooperatives are viewed as the best teachers of democratic principles and practices in their communities, the best teachers of civics and civic responsibility, leading by example."
This idea of co-ops helping to build democracy is not new. Research indicates that when there is a robust and healthy cooperative ecosystem, people are more likely to engage in public institutions. Researchers point out that members of worker co-ops build habits in the workplace, such as "participatory persuasion." As a result, people are more likely to participate in government or public institutions [1]. True participation in their business tends to create "community awareness" in the member as an added benefit. [2] Research also suggests a pronounced positive correlation between participating in cooperative-level decisions and in community political affairs. [3]
This bolstering of democratic skillsets goes beyond worker co-ops, where members shape democracy in the workplace every day. In rural America, one need only look at the resumes of countless county commissioners, small town mayors and even Members of Congress to find that the person was first an active participant in their farmer co-op or rural electric co-op and likely benefited from significant membership education and leadership training.
Jessica Gordon Nembhard points out in Collective Courage: A History of African American Cooperative Economic Thought and Practice that many of the civil rights leaders who emerged in the 1950s cut their organizing teeth by helping establish and govern Black-owned consumer, producer and housing cooperatives in the 30s and 40s. Many of the pillars of the African American community—from Dubois to Douglass to King—recognized co-ops as a tool of not only economic empowerment, but political empowerment as well. Educator and activist Septima Clark ran a literacy and citizenship workshop out of the back of a food co-op in South Carolina that grew into the Citizenship School Program, whose 900 schools registered millions of Black people to vote in the South for the first time. [4]
NCBA CLUSA's work with communities across the globe for nearly 70 years further shows the power of cooperatives' role in building democratic societies—this is true for dairy famers in India, youth in Uganda and coffee farmers in El Salvador. In many places, cooperatives might be the only place for people to learn the key elements of a functioning democracy. Cooperatives tend to provide an apprenticeship for good governance and decentralization by daily practice of free expression and access to education and training. As members of cooperatives practice these concepts, they begin to apply them to the decentralization process in their own communities. They take more responsibility for local services such as healthcare, education and infrastructure, managing these services in a democratic, transparent way that improves community services and accelerates broader societal and economic growth.
In many cases, their influence extends beyond their own cooperative or even community. In Mozambique, NCBA CLUSA led education and advocacy efforts among cooperatives that resulted in the passage of a new cooperative law in 2009, creating the legal framework for farmer co-ops to thrive. In our current U.S. Agency for International Development (USAID)-funded Cooperative Development Program (CDP) project, "Creating an Environment for Cooperative Expansion," we made sure co-ops in Guatemala had a voice in co-op law proposals. In Peru, we advocated for an emergency decree that granted cooperatives access to emergency funding during the pandemic. In these examples and many more, cooperative organizations strengthened their advocacy skills and are now in a better position to advance the interests of their members.
These examples demonstrate why cooperatives should be a bigger part of conversations around preserving democratic institutions. Of course, we need to back that sentiment up with action. To repeat Lowery, co-ops need to ensure that they are providing member education, meaningful member engagement, and inclusive governance. Co-ops can also act by helping their members engage in that most fundamental democratic activity: voting for public officials at every level of government.
To that end, NCBA CLUSA is excited to deepen our partnership with the National Rural Electric Cooperative Association (NRECA)'s Co-ops Vote initiative to provide co-ops from across all sectors the tools they need to educate members about voting. In the coming weeks, NCBA CLUSA will introduce the Twin Pines Voter Project, a new way to encourage co-ops to engage in their democracy locally and connect with co-ops across the country doing similar work to increase voter registration and turnout. Stay tuned for more details on our new project and how you can participate.
—Doug O'Brien is president and CEO of NCBA CLUSA, where he works with the cooperative community to deepen its impact on the economy. 
---
[1] Mason, Ronald M. "Participatory and Workplace Democracy: A Theoretical Development in Critique of Liberalism," pg. 95
[2] Mason, Ronald M. "Participatory and Workplace Democracy: A Theoretical Development in Critique of Liberalism," pg. 200
[3] Smith, Stephen C. "Advances in the Economic Analysis of Participatory and Labor-Managed Firms," Vol. 1, pg 123
[4] Thompson, David. "Good Trouble: A Call to Continue John Lewis' Cooperative Legacy." Cooperative Business Journal, Spring/Summer 2020