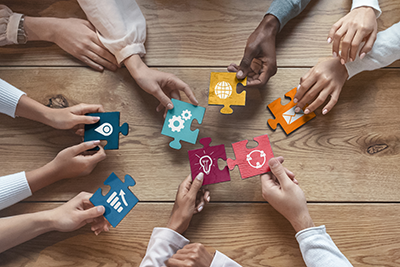 As cooperative enterprises across the U.S. work to grow their businesses and impact their communities, they should consider an underutilized strategy: cooperating with other cooperatives.
A new project, called the Principle 6 (P6) Initiative, will identify and scale local, regional and national opportunities for cooperatives to work together across sectors, acting on the 6th Cooperative Principle, or "cooperation among cooperatives." Led by the National Cooperative Business Association CLUSA International (NCBA CLUSA), the P6 Initiative seeks to capture the potential cooperatives have as a network of vital and inclusive community institutions.
"As the national association for cooperative enterprises in the U.S., NCBA CLUSA is uniquely positioned to bring co-ops together to accelerate their growth and impact—whether through advocacy, innovation, cross-marketing or community projects," said Doug O'Brien, president and CEO of NCBA CLUSA. "When talking about growth and impact, co-ops need to consider their entire community; that's why diversity and inclusiveness will be essential to these efforts."
Through a P6 approach to meaningful, inclusive growth and impact, cooperatives will identify new members, customers and business opportunities, allowing them to leverage more resources and relationships in responding to their communities' needs. Now, more than ever, consumers are looking for viable alternatives to Wall Street and Washington D.C. And while the business community increasingly seeks to recast itself as responsive to employees, customers and broader society—not just shareholders—cooperatives are still the best way to do business and build communities. The P6 Initiative is a coordinated way to galvanize co-ops as the preferred institutions in their communities, maximizing their potential for growth and impact.
The launch of the P6 Initiative caps a six-month, cross-sector feasibility assessment. Beginning in December 2020, NCBA CLUSA's P6 Team conducted more than 40 one-on-one interviews with key cooperators and ten focus group discussions comprised of Cooperative Hall of Fame members, innovators and thought leaders, and senior cooperative executives representing multiple sectors. Those conversations indicated that:
Co-op industry leaders consider a stronger cooperative identity to be strategically beneficial and worth pursuing.
Co-op industry leaders are open to cross-sector collaboration that advances their goals of growth and impact in a meaningful way.
For cross-sector collaboration to occur, there must be a catalyst.
In June, NCBA CLUSA's Board of Directors approved the apex organization's role as that catalyst. In the months to come, NCBA CLUSA's P6 Team will:
Pilot a small number of local or regional "hubs" focused on growth and impact through enhanced cross-sector collaboration. Each hub will serve as a model regional cooperative ecosystem in which credit unions and other cooperatives will work together to address jobs, health, elder care, childcare, housing and other challenges that impact community well-being.
Convene co-op industry leaders to focus on the role of advocacy and innovation in advancing growth and impact. Larger, more established organizations within the cooperative community provide the potential for greater reach and impact—a critical step in ensuring the sustainability of the P6 Initiative.
Develop a database of co-ops, co-op industry leaders and cross-sector collaborations. This resource will start by capturing examples from local or regional hubs and expand to become a national database. You can contribute now by sharing how your co-op practices P6!
As success is demonstrated locally, the P6 Team will seek to replicate regional models across the U.S. With 65,000+ cooperative establishments in the country, there is incredible potential to work together to elevate the cooperative business model and demonstrate its impact.
Learn more about the Principle 6 Initiative
---
The National Cooperative Business Association CLUSA International (NCBA CLUSA) is the apex association for cooperative businesses in the United States and an international development organization. Founded in 1916, NCBA CLSUA strives to develop, advance and protect cooperative enterprise through cross-sector advocacy, education and public awareness that help co-ops thrive. For more than 60 years, NCBA CLUSA has worked in more than 100 countries building sustainable communities, creating economic opportunities and strengthening cooperatives.