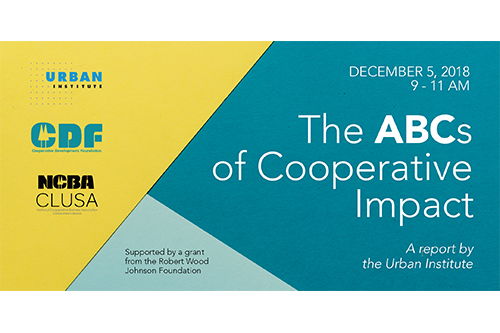 While interest in cooperatives is growing, evidence of their unique contributions to economic activity, community vitality and worker well-being is still emerging.
Join NCBA CLUSA, the Cooperative Development Foundation and the Urban Instituteon Wednesday, December 5, from 9 – 11 a.m. at NCBA CLUSA headquarters in Washington, DC to discuss the fundamentals that underpin cooperative impact. Register now for this free event!
Based on a new report from the Urban Institute called "The ABCs of Cooperative Impact," this event will explore the think tank's seven-point framework for evaluating the economic and social influence of cooperatives, and examples of cooperatives that are responsive to member and community needs.
To better understand co-ops and their link to healthy, equitable and sustainable communities, CDF and NCBA CLUSA have been working with the Urban Institute to develop a shared framework for assessing impact—on cooperative enterprises, their members and the communities they serve. This work was supported by a grant from the Robert Wood Johnson Foundation.
Introduced by Carla Decker, president and CEO of DC Credit Union, this event will feature Brett Theodos, Director of the Community Economic Development Hub at the Urban Institute; Cornelius Blanding, Executive Director, Federation of Southern Cooperatives; and Margaret Lund, Principal of Coopera Co. Audience and presenter Q&A facilitated by NCBA CLUSA president and CEO Doug O'Brien will follow.