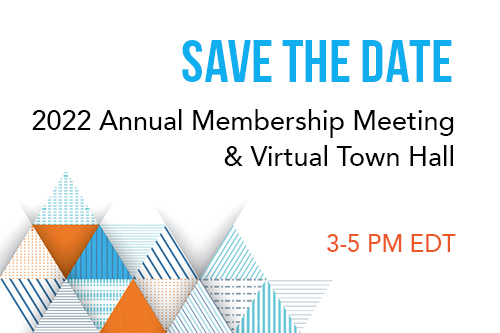 Registration is now open for NCBA CLUSA's 2022 Annual Membership Meeting, scheduled for Tuesday, May 3 from 3-5 pm EDT. While this year's meeting will be held virtually, we invite members in the DMV area to join us in person at NCBA CLUSA headquarters in Washington, DC for a watch party followed by a post-event reception.
This annual member event is a key opportunity to reflect on how NCBA CLUSA has advanced its mission to develop, advance and protect cooperative enterprise over the past year. Even more importantly, the Annual Membership Meeting is a chance for us to renew our commitment to our members and the broader cooperative community to support and empower your work in building a diverse, equitable and inclusive economy.
Our meeting this year will focus on applying the lessons we've learned from the past two exceptional years to our work as we move forward, leading with our cooperative identity. You'll hear what's inspired your fellow cooperators, and learn how it can inform and deepen your impact.
In addition to messages from NCBA CLUSA's Board Chair Carla Decker and president and CEO Doug O'Brien, we'll celebrate the winners of the Cooperative Development Foundation (CDF)'s 2022 Co-op 5K and announce the results of the 2022 Board of Directors election.
Read about this year's candidates and be sure to cast your vote by April 20. As a member of NCBA CLUSA, this is your opportunity to help choose the leaders who will guide and inspire the association's future impact.