NCBA CLUSA is thrilled to welcome The Rockefeller Foundation's Alyson Wise and the University of Colorado-Boulder's Nathan Schneider to the 2017 Cooperative IMPACT Conference speaker lineup.
With IMPACT 2017 just over a month away, NCBA CLUSA is highlighting some of our best-in-class speakers (see our first speaker roundup here). We've worked diligently to line up these outstanding speakers and the compelling programming that will make IMPCT 2017 this year's premier networking and learning event for co-op members, practitioners and advocates. Register for this pivotal conference now!
With the release of its landmark report in late 2016, the Rockefeller Foundation defined inclusive economies by five characteristics: participation, equity, growth, sustainability and stability. NCBA CLUSA's decision to redirect its energy as an advocate for, collaborative partner in and driver of the inclusive economy framework makes the Rockefeller Foundation an ideal partner at IMPACT 2017.
Alyson Wise, Associate Director for Jobs and Economic Opportunities at The Rockefeller Foundation, will participate as a panelist on the IMPACT Track "Inclusive Economy" session Thursday afternoon. The co-op community understands that co-ops are one of the most effective strategies to empower people in their businesses and communities. Wise will be joined by other panelists whose organizations are likewise leading the work on inclusive economic growth.
Nathan Schneider, Scholar in Residence of Media Studies at the University of Colorado-Boulder will present the keynote address on Thursday afternoon for the Purchasing Track of IMPACT 2017. Schneider will make the case that the best way to escape the cycle of playing catch-up with the competition is to adopt innovative technologies in distinctly cooperative ways that optimize the co-op advantage. Schneider will also present a lunch keynote for the Co-op Professionals Track.
Learn more about Wise, Schneider and some of our other speakers below. Find our first speaker roundup here, which highlights Madison Mayor Paul Soglin and the Aspen Institute's Maureen Conway.
If you haven't already registered, click here to join NCBA CLUSA and our co-host the National Cooperative Bank for this event.
Geoff Anderson
Manager, Global Citizenship and Strategic Planning, John Deere   
Geoff Andersen was raised in the Kansas City area and began working for a local agri-business consulting company during high school and college internships. In 1989, he joined ARI Network Services, Inc., in Milwaukee, Wisconsin, spending 10 years with the provider of technology solutions to agribusiness and equipment channels. When Deere & Company acquired AGRIS in 1999, Anderson began serving as director of John Deere Information Systems, where he led a reorganization and helmed the company for seven years. In 2006, he assumed the leadership of John Deere's Frontier Business Unit based in the Agricultural Marketing Center in Lenexa, Kansas. In 2009, he accepted additional responsibilities for establishing strategic partnering units in Deere markets around the world. Anderson became Manager of Global Citizenship and Strategic Planning at John Deere in 2012. In this capacity, he leads the globalization of citizenship programs and investments to align with the company's growth aspirations. A significant focus area is creating self-sustaining agricultural development models in Sub-Saharan Africa. Anderson holds a bachelor's and master's degree in Agricultural Economics from Kansas State University.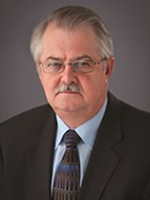 Terry Barr
Senior Director,  Knowledge Exchange Division, CoBank  
Terry Barr, a nationally recognized agricultural economist, is Senior Director for CoBank's Knowledge Exchange Division, an information- and knowledge-sharing initiative created in 2009. Previously, Barr served as Chief Economist for the National Council of Farmer Cooperatives in Washington, DC. Prior to joining NCFC, he held several positions during a 14-year tenure at the U.S. Department of Agriculture (USDA). He served as chairman of the World Agricultural Outlook Board, which is responsible for coordinating USDA's commodity forecasts and for publishing its monthly World Agricultural Supply and Demand Estimates. Barr has also served in the Office of the Secretary of Agriculture as director of economic analysis, where he prepared economic analyses and assessments of the impacts of alternative farm policy options and decisions. Barr holds a doctorate in economics from Washington State University.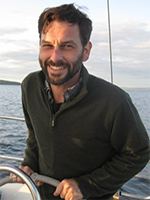 Rob Brown
Director,  Business Ownership Solutions   
Rob Brown is the Director of Business Ownership Solutions (BOS), a program of the Cooperative Development Institute that promotes employee ownership and works with business owners and their employees to facilitate conversions. He was part of the advisory group that successfully converted three retail businesses into the Island Employee Cooperative, which is now the largest worker co-op in Maine and the second largest in New England. He has also organized mobile home park residents to convert investor-owned parks into resident-owned cooperatives. Brown participates in several national networks promoting the strategy of employee ownership conversion and best practices in the field, including as a 2015 DAWI Cooperative Developer Fellow and as a member of the Workers to Owners Collaborative. He studied economic development policy at the University of Maine and College of the Atlantic, and has a diverse background in policy research, advocacy and organizing, as well as non-profit and for-profit business development. Over the years, he has been a featured speaker at many national events, including as a William Jefferson Clinton Distinguished Lecturer at the Clinton Presidential Library and School of Public Service. Brown lives with his wife and son in Northport, Maine.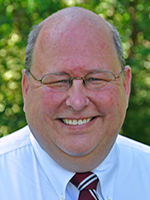 Kevin Edberg
Executive Director, Cooperative Development Services   
Kevin Edberg is the Executive Director of Cooperative Development Services, a nonprofit organization providing organizational and business development support to new and existing co-ops in the Upper Midwest. Over the past 17 years, his work has included a focus on creating regional and national systems of development, with particular attention to issues of revenue diversification including federal, state and foundation grants, fee for service, and tax-advantaged philanthropic gifts. Edberg believes passionately in the ability of people to address important personal and community issues through cooperative action. He has provided leadership to a number of boards in the non-profit, cooperative and public sectors, including CooperationWorks!; the MSC Fund of the Cooperative Development Foundation; Food Alliance; and 28 years of elected service on the school board and city council in his home town of White Bear Lake, Minnesota.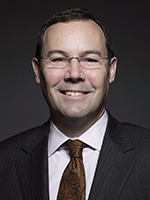 John Ellenberger
Senior Vice President, Land O' Lakes International Development   
John Ellenberger leads the Land O'Lakes International Development organization, a 501(c)(3) non-profit founded in 1981 by Land O'Lakes, Inc., one of America's premier agribusiness and food companies and a member-owned cooperative based in the Minneapolis-St. Paul suburb of Arden Hills, Minnesota. He assumed the role in January 2017 after leading U.S. Dairy Foods and dairy foods teams since 2008. Before joining Land O'Lakes, Ellenberger led corporate marketing at American Medical Systems and spent 15 years in various marketing leadership roles at General Mills. Ellenberger serves on the boards of ServeMinnesota and Gillette Children's Specialty Healthcare. He earned his bachelor's degree and MBA from the University of Minnesota.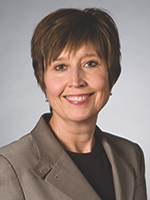 Amy H. Gales
Executive Vice President, Regional Agribusiness Banking Group, CoBank  
As head of the Regional Agribusiness Banking Group, Amy Gales is responsible for the bank's middle market U.S. agricultural cooperative customers and lending relationships with Agricultural Credit Associations. She oversees the delivery of credit and other financial services to these customers, and is in charge of building CoBank's business relationships with Farm Credit System partners. Gales is a member of CoBank's Management Executive Committee and serves on the Farm Credit Leasing board. Prior to assuming this role, Gales was responsible for managing the agribusiness lending operations of CoBank's Central Region, supporting lending in eight Midwestern states. She began her career with the former St. Paul Bank for Cooperatives, working directly with local cooperative customers in a variety of positions over a 14-year period. Subsequently she served as the chief executive officer of a grain and farm supply co-op in southern Minnesota and as executive director of an agricultural development center in South Dakota. She returned to banking in 2002, working in leadership posts at both Commerce Bank and Wells Fargo. She returned to CoBank in 2007 as regional vice president in the Minneapolis banking center. Gales also serves on the Retirement Trust Committee that oversees the retirement programs for CoBank and several other affiliated Farm Credit partners. She is a member of the board of directors of Food Bank of the Rockies and serves on its executive and audit committees.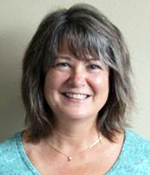 Diane Gasaway
Executive Director, Northwest Cooperative Development Center   
Diane Gasaway is the Executive Director for the Northwest Cooperative Development Center (NWCDC). NWCDC is a nonprofit organization devoted to assisting new and existing cooperative businesses, from daycare centers to renewable energy. The Center's primary focus is cooperative education and business development. Gasaway became involved with the cooperative movement in 2000 through her work with the Washington Rural Electric Cooperative Association (WRECA) as their Office Manager/Legislative Assistant. In 2003, she joined NWCDC. Since then, the organization has grown from two to ten employees, tremendously increasing its capacity to provide technical assistance to new and existing cooperative business ventures. Prior to WRECA, Gasaway spent 13 years in the banking industry. She received her Masters of Public Administration program from The Evergreen State College.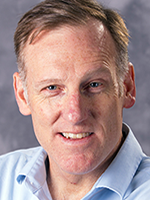 Brent Hueth
Associate Professor of Agriculture and Applied Economics, University of Wisconsin-Madison   
Brent Hueth is associate professor of Agricultural and Applied Economics at the University of Wisconsin-Madison where he directs the Center for Cooperatives and Federal Statistical Research Data Center. His teaching focuses on cooperative organizations, agricultural markets and applied microeconomics. Hueth is currently leading research projects on cooperative governance, behavior and performance, and on the economic impact of cooperatives on the U.S. economy. Other recent research topics have included incentive pay for CEOs in cooperative firms; cooperative conversions, failures and restructurings; and the role of the cooperative bargaining association. His research has been published by the American Journal of Agricultural Economics, the Journal of Economic Behavior and Organization, and the Journal of Regulatory Economics, among others. After receiving his Ph.D. in Agricultural and Natural Resource Economics from the University of Maryland-College Park, Hueth spent two years at the University of California-Berkeley as a Research Economist. He was an Associate Professor in the Department of Economics at Iowa State University for eight years prior to joining the University of Wisconsin-Madison.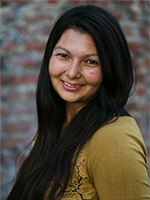 Camille Kerr
Associate Director, The ICA Group   
Camille joined The ICA Group as its Associate Director in June of 2016, where she partners with community-based organizations, labor unions and worker centers, local governments, CDFIs and other organizations to design and implement scale-oriented business development initiatives to effect meaningful change for low-wage workers and the communities where they live. Since its founding, ICA has helped start more thirty worker co-ops and social enterprises, helped dozens of companies convert to worker ownership, and saved or created over 10,000 jobs. Previously, Kerr worked at the Democracy at Work Institute and the National Center for Employee Ownership. She writes and speaks frequently on ESOPs, worker cooperatives, democratic governance, platform cooperatives and other topics related to alternative ownership structures. She earned a J.D. from the University of Cincinnati College Of Law, where she graduated cum laude.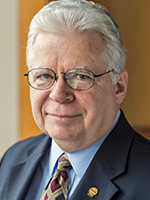 Martin Lowery
Executive Vice President, Member and Association Relations, National Rural Electric Cooperative Association    
Martin Lowery is Executive Vice President of Member and Association Relations for the National Rural Electric Cooperative Association (NRECA). Prior to being named Executive Vice President, he was Manager of NRECA's Consulting, Training and Market Research Division. Lowery has been employed with NRECA since 1982. Previous experience includes five years as manager of the Engineering and Technical Services Division for a Washington-based management consulting firm. In 2014, he was inducted into the Cooperative Hall of Fame, the highest honor that the U.S. cooperative community bestows on people who have made heroic contributions to the cooperative community. Lowery serves on the board of the National Cooperative Business Association CLUSA International. He is chair of National Cooperative Bank's Board of Directors and also serves on the Executive Committee of the Consumer Federation of America Board. He is the elected U.S. representative to the International Co-operative Alliance Board of Directors. Lowery received a Bachelor of Arts (cum laude) degree from DePaul University and a Ph.D. in Philosophy from Duke University.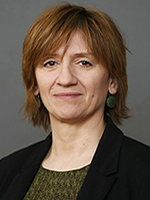 Sonja Novkovic
Academic Director, Cooperative Management Education Program, Saint Mary's University    
Sonja Novkovic is a Professor of Economics and Academic Director of the Cooperative Management Education Program in the Sobey School of Business at Saint Mary's University in Halifax, Nova Scotia. Her research interests are in the field of economic democracy, including labor-managed and cooperative firms, social economy, and comparative economic systems. She has applied evolutionary economics and learning via genetic algorithms as tools of modeling adaptive economic agents. She is Chair of the International Co-operative Alliance's Committee on Co-operative Research, and past president of the International Association for the Economics of Participation (IAFEP). Novkovic earned her Ph.D. in Economics at McGill University, her M.A. in Economics at the University of Guelph, and her B.A. in Economics at the University of Novi Sad.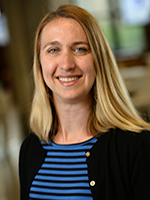 Allison Powers
Program Officer, Capital Impact Partners   
Alison Powers is a Program Officer at Capital Impact Partners, a national Community Development Financial Institution that invests capital and commitment to help people and communities break the barriers to success. As part of its larger mission-driven efforts, Capital Impact encourages co-op development, with a focus on how co-ops can better support low-income communities. As Program Officer for cooperatives, Alison works to amplify the potential of the co-op model for all people through technical assistance, grant funding, and financing for capital projects. Prior to Capital Impact, Alison spent 10 years Director of Member Services and Grants Manager at the Urban Homesteading Assistance Board, where she helped create and sustain low-income cooperative housing in New York City.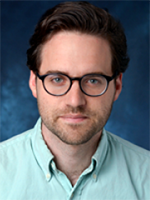 Nathan Schneider
Scholar in Residence of Media Studies, University of Colorado-Boulder     
Nathan Schneider is a Scholar in Residence of Media Studies at the University of Colorado-Boulder and a reporter who writes about religion, technology and resistance. His current project is an exploration of models for democratic ownership and governance for online platforms in the wake of a major conference he co-organized at the New School in 2015, Platform Cooperativism. He is the author of two books, God in Proof: The Story of a Search from the Ancients to the Internet and Thank You, Anarchy: Notes from the Occupy Apocalypse, both published by University of California Press. His articles have appeared in The Chronicle of Higher Education, The New Republic, Harper's Magazine, The Nation, The Catholic Worker, Religion Dispatches and other outlets. He writes a column for America, a national Catholic weekly, as well as a finance column for Vice magazine. Media appearances have included The Takeaway, Democracy Now, On Being, HuffPost Live and The Brian Lehrer Show. As an editor, Schneider co-founded the news website Waging Nonviolence and helped relaunch the online literary magazine Killing the Buddha. He has also helped organize projects with the Social Science Research Council about religion and media since 2008, including The Immanent Frame and Frequencies. Schneider holds two degrees in religious studies, a master's from the University of California, Santa Barbara, and a bachelor's degree from Brown University.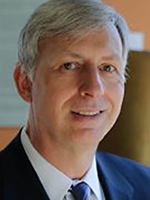 Russell Tucker
Chief Economist, National Rural Electric Cooperative Association    
Russell Tucker is Chief Economist at the National Rural Electric Cooperative Association (NRECA) where he provides economic analysis of electric cooperative issues. Significant projects include simulation modeling of the impacts of EPA carbon regulation, "Affordable Electricity: Rural America's Economic Lifeline," "Rate Strategies for 21st Century Challenges," and "Affordable Electricity and Economic Development: The Role of Electric Cooperatives in the 21st Century." Prior to joining NRECA in 2008, Russell held several economic and public policy analysis positions at the Edison Electric Institute addressing electric industry restructuring, wholesale markets development, electric transmission pricing and climate change. He has a Ph.D. in economics from The George Washington University, an M.A. from the American University, and a B.S. from Virginia Commonwealth University.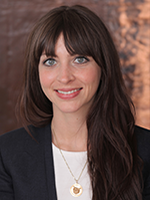 Alyson Wise
Associate Director for Jobs and Economic Opportunities, The Rockefeller Foundation    
Alyson Wise is an Associate Director for Jobs and Economic Opportunities at The Rockefeller Foundation. She oversees active portfolios focused on youth employment, independent work and inclusive economies. In this role, Wise also scopes new areas of work for the Foundation. She brings over a decade of experience working in the philanthropic and nonprofit sector to advance economic opportunities for people in the United States and abroad. Wise holds a Masters of Public Administration at New York University's Wagner School of Public Service where she attended as a Lisa Goldberg Fellow in Philanthropy and Public Service.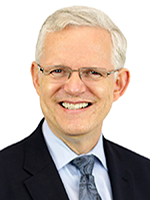 Sam Worthington
CEO, InterAction    
Sam Worthington is CEO of InterAction, the nation's largest U.S. alliance of international nongovernmental organizations. As InterAction's chief executive, Worthington strengthens the impact and collective voice of the U.S. NGO sector and leads its engagement with the United Nations, governments and civil society groups around the world. He sits on the Inter-Agency Standing Committee at the UN, the boards of the Van Leer Group Foundation, The Center for Disaster Philanthropy and the Alliance to End Hunger. Worthington is also a member of the Council on Foreign Relations. Previously he served as Chief Executive Officer of Plan International USA (from 1994 to 2006) and as a resident fellow at the Rockefeller Foundation's Bellagio Center (2015).