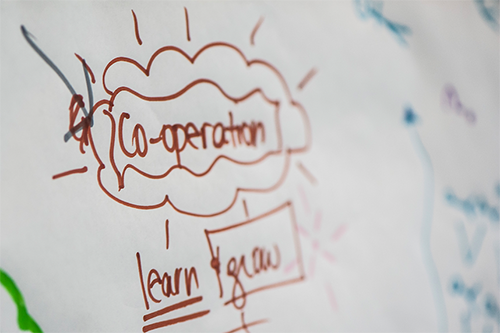 If you're planning to join us in Washington, DC in person* for this October's Cooperative IMPACT Conference, consider arriving a day early to take advantage of the International Centre for Co-operative Management's new Executive Education Course.
Launched in conjunction with NCBA CLUSA's 2022 Cooperative IMPACT Conference, "Taking Action on Principle 6: Leveraging Our Collective Potential" will be held exclusively in-person on Tuesday, October 4 from 9 am-4:30 pm at the National Cooperative Bank (NCB)'s Innovation Room at 2011 Crystal Dr., Arlington, Virginia 22202.
This year's course is available for $300 as an optional session when you register for the 2022 Cooperative IMPACT Conference. Space is limited, so reserve your spot now! 
Add the course to your IMPACT registration
During this interactive course, you'll join fellow cooperators in discovering that inter-cooperation is hardwired into the co-op business model's DNA, motivating us to work together. You'll hear from a range of diverse perspectives—from the role of associations and federations to business partnerships and supply chains, to the development of new co-operatives. All content and examples will illustrate the benefits of inter-cooperation in strengthening cooperatives, communities and economies. This short course will discuss a range of frameworks and examples, giving you and your cooperative the tools to do more and go further to leverage the movement's collective potential.
Presented by the International Centre for Co-operative Management at Saint Mary's University in Halifax, this course is facilitated by the Centre's Managing Director KAREN MINER and Academic Director DR. SONJA NOVKOVIC. The course includes key contributions by FRED FREUNDLICH (LANKI, University of Mondragon); ERBIN CROWELL, a graduate of the Centre's Master of Management, Co-operatives and Credit Unions, Executive Director of the Neighboring Food Co-op Association and member of NCBA CLUSA's Board of Directors; and other guest presenters.
A note for those joining us in-person
Looking for accommodations while you're in Washington, DC for IMPACT 22? We've partnered with the Hilton Garden Inn at 815 14th St NW, Washington, DC 20005—just .3 miles from The National Press Club—to reserve a room block for IMPACT Conference attendees. These rooms are limited in quantity and availability for October 4-7, 2022 at the exclusive rate of $219 per night, not including taxes.
Learn more about accommodations here
---
*NCBA CLUSA will comply with all COVID-19 mandates and policies provided by both the Centers for Disease Control (CDC) and the local government of Washington, DC regarding the safety of in-person meetings. Please note that our in-person programming at the National Press Club will comply with the club's COVID-10 Safety Guidelines. Currently, the club requires proof of vaccination prior to entry. 
THANK YOU TO OUR IMPACT CONFERENCE STRATEGIC PARTNERS