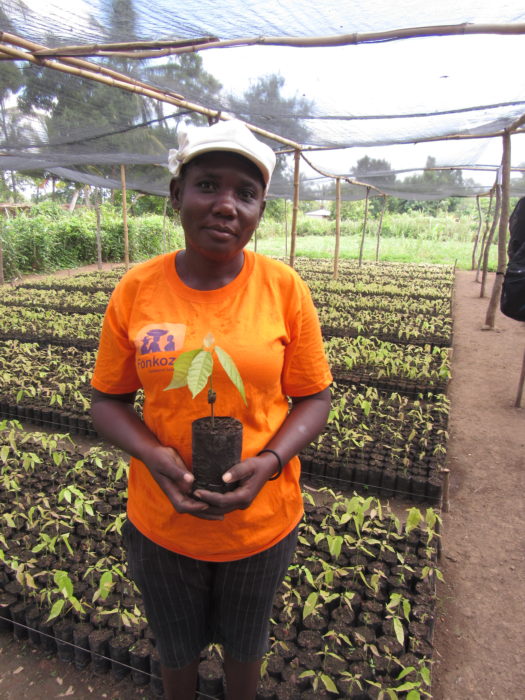 October marks a new cacao harvest season in northern Haiti. The COVID-19 pandemic has created crippling impacts on global economies and the country's cacao cooperatives and female farmers have not been spared. An expert on Haiti's cacao value chain at an agribusiness firm in Haiti told the Fine Cacao and Chocolate Institute (FCCI) [1],"the uncertainty of export sales brought by the pandemic led to the decision to suspend cacao purchases at the peak of the harvest." Smallholder cacao farmers and small chocolate businesses rely on each other. The pandemic has forced many small businesses to close or reduce operations, resulting in an income decrease for smallholder farmers. Haiti's cacao value chain, which is made primarily of smallholder farmers, is particularly vulnerable to market fluctuation. In Northern Haiti, the Federation of Cacao Cooperatives (FECCANO), has been exceptional in supporting smallholder farmers throughout the COVID-19 crisis by connecting them with market opportunities despite the crisis. FECCANO is a federation of eight smallholder farmers' co-ops owned by a total of 4,000 cacao farmers. As co-owners of FECCANO, the farmers benefit from long-term commercial partnership set up by FECCANO.
Research by the Food and Agriculture Organizations of the United Nations (FAO) has shown that agricultural and rural women tend to bear the brunt of health and economic crises. In its brief on the Gendered impacts of COVID-19 and equitable policy responses in agriculture, food security and nutrition[2], the FAO explains that rural women are disproportionately more vulnerable to the setback of COVID-19 than non-rural women, and more often than men. Did you know that in Haiti, women play a leading role in creating and commercializing value-added cacao products? COVID-19 threatens to diminish post-harvest and value-added opportunities for female cacao farmers. We spoke with Jocelyne Augustin, a female farmer, cacao horticulturist and cooperator in northern Haiti. We learned that there are few COVID-19 socioeconomic safety nets for women farmers in her community. Her household income is 100% dependent on cacao farming. Her parents were also cacao farmers and members of the agroforestry cooperative where she cares for cacao nurseries. Her farmer's co-op makes up an eighth of FECCANO. Through FECCANO, farmers commercialize certified organic and ethical cacao, and implement agroforestry projects. Thanks to their ownership in FECCANO, smallholder farmers access equitable markets directly, bypassing speculators and middlemen.
Throughout Co-op Month, NCBA CLUSA and the Cooperative Development Foundation (CDF) have been championing FECCANO's #4000Strong4Haiti crowdfunding campaign. And, 100% of your tax-deductible donation will go to FECCANO as a CDF grant at no cost to the recipients or you. Any amount you are willing to donate will directly benefit the 4,000 smallholder farmers in the FECCANO cooperatives.
Click here to make your tax-deductible donation now
With $12,000 FECCANO will repair damaged cacao drying areas and purchase protective materials to keep the next harvest dry and safe from heavy rain this hurricane season. An additional $30,0000 will help build 1,000m2 post-harvest drying areas serving 632 farmers. The new drying areas will increase the volume of cacao exported by 25 to 30%.
Because FECCANO aligns with the cooperative values of equity, respect, and solidarity, you are invited to join NCBA CLUSA as we align our giving with those values in support of smallholder farmers. The Cooperative Development Foundation (CDF) has generously donated its crowdfunding management fees and the use of its crowdfunding platform to the FECCANO crowdfunding campaign.
Other ways to help:
[1]Chocolate in the Time of COVID-19, https://revista.drclas.harvard.edu/book/chocolate-time-covid-19%C2%A0
[2]FAO. 2020. Gendered impacts of COVID-19 and equitable policy responses in agriculture, food security and nutrition. Rome. https://doi.org/10.4060/ca9198en