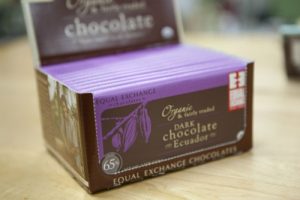 Cacao, the food of the gods for Meso and South American civilizations, is currently well-known to most of us in the form of chocolate. This delicious bar brings back childhood memories and feelings of comfort. It is also a super food loaded with nutrients and antioxidants  to positively affect your health.
In fact, a chocolate bar is so powerful that it can positively affect the lives of more than 200 cacao farmers in Tingo Maria, Huanuco Region, Peru. A partner of the USAID-funded Farmer-to-Farmer Program in Peru, Bella Agro-Industrial Cooperative (otherwise known as CAI BELLA), uses a selection of cacao beans farmed by its associates to prepare delicious artisanal chocolate bars and beverages under the brand "Choco Pasion."
As with many cooperatives in Peru, excessive logistic expenses and a lack of clear commercialization channels prevent these organizations from reaching more customers and increasing their income. In fact, CAI BELLA had to terminate a contract with a supermarket chain in a nearby city because the transportation costs, when added to the production costs, caused the cooperative to lose money instead of making a profit. These issues also prevent most Peruvians from eating chocolate made from real cacao, thus having to resort to chocolate-flavored products high in saturated fat and sugar, with no positive impact on their diet.
The Farmer-to-Farmer Program in Peru aims to boost cacao and coffee cooperatives' potential by pairing them with experts who will support them in improving their business performance and generating greater impact for their associates. CAI BELLA, with the guidance of  Farmer-to-Farmer volunteers, will work towards reducing its production costs by modifying and expanding its chocolate recipes, procuring fruits and nuts as added ingredients, and strategically timing its production.
The volunteers will also support CAI BELLA to identify different commercialization channels and partnerships suited for a cooperative specialized in cacao by-products. This expansion will include offering tours of their processing facility, (located in a touristic corridor) developing and implementing a strategic commercialization plan and providing visitors with a heightened experience to increase store sales. These strategies will ultimately help CAI BELLA build its resilience as an organization so that it is better equipped to face circumstances like COVID-19.
The next time you are in Peru and feel the urge to eat a delicious chocolate bar, look for cooperatively made and sustainably grown products! Cacao farmers and their families will be glad to offer you their precious cacao and contribute to your well-being. If you want to learn more about the work and products of this organization, check out their website at https://cooperativabella.com/en/home/.