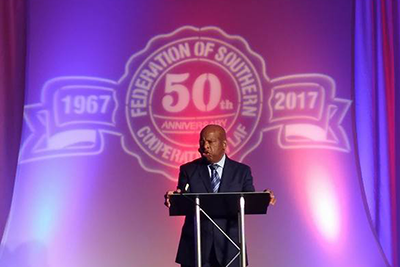 Join the Federation of Southern Cooperatives/Land Assistance Fund virtually for three days of celebrating farmers as first responders this week!
On Thursday, August 13, the Federation will host the 19th Estelle Witherspoon Lifetime Achievement Award Ceremony from 4-5:30 pm EDT. The program will lift up the legacy of three former honorees along with another civil rights giant, each of whom passed away this year: Rep. John Lewis, Rev. C.T. Vivian, Constance "Connie" Curry and Joseph E. Lowery. The ceremony will also honor Rep. Sanford D. Bishop, Jr. who is serving his 14th term representing Georgia's 2nd Congressional District.
On Friday, August 14 from 10 am-noon EDT, join the Federation for a panel featuring the U.S. Department of Agriculture in a discussion on heirs property, regional marketing and cooperative development.
Finally, on Saturday, August 15, the 53rd Mrs. Mattie Mack Pretty Hat Prayer Breakfast & Membership Meeting will convene from 10 am-noon EDT. This annual event pays tribute to Mattie Mack's contributions to the Federation and provides space for members to strategize on ways to move the organization forward.
Attend the Prayer Breakfast & Membership Meeting
This week's events are also an opportunity to support farmers as first responders by donating to feed a family battling food insecurity during the COVID-19 pandemic. Rural communities across the U.S. are disproportionately affected during this time, as fewer resources and less developed infrastructure amplify economic hardships. Every $100 donation covers the cost and delivery of a food box to an impacted family.