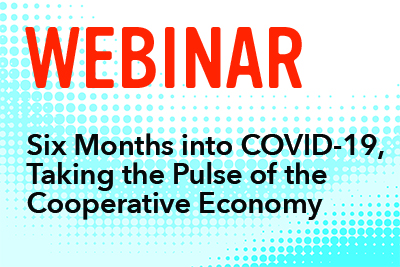 As cooperators across the U.S. and around the world enter the sixth month of a global pandemic, it's time to reevaluate the new normal. How are cooperatives adapting in the face of shifting priorities, and how will co-op businesses—and entire sectors—look different in the future?
Join NCBA CLUSA on Thursday, August 20 at 3 p.m. for a webinar hosted by the Council of Cooperative Economists (CCE) with support from CCE sponsors CoBank and Nationwide. "Six Months into COVID-19, Taking the Pulse of the Cooperative Economy" will explore how the economic dynamics of the pandemic have impacted co-ops across all sectors.
Moderated by NCBA CLUSA President and CEO Doug O'Brien, this conversation will feature Robyn DesHotel, Chief Financial Officer of National Co+op Grocers; Esteban Kelly, Executive Director of the U.S. Federation of Worker Cooperatives; Dan Kowalski, Economist and Vice President of CoBank's Knowledge Exchange; Mike Schenk, Chief Economist for the Credit Union National Association; and Russell Tucker, Chief Economist for the National Rural Electric Cooperative Association (NRECA).
During this webinar, panelists will discuss the following questions:
How have the economic dynamics of COVID-19 impacted your cooperative sector?
How has your sector adapted?
Will these adaptations be permanent? How will your sector look different in the long-term?