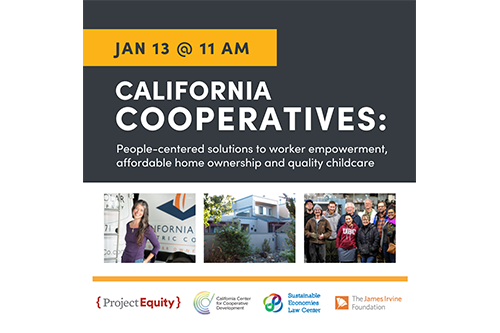 As California wrestles with the ongoing pandemic, deepening income and wealth inequality, an entrenched housing crisis, and the clarion call for racial equity, community and government leaders are open to new solutions. How about cooperatives?
Cooperatives are a well-proven but under-utilized way to create economic opportunity for workers, families and communities. On Thursday, January 13 at 11 am PST, we'll explore how co-ops are already creating good jobs and affordable quality housing and childcare throughout our state, and how we know that they're working.
During this webinar, we'll learn more about a new report called "California Cooperatives: Today's Landscape of Worker, Housing and Childcare Cooperatives." Released in October 2021, this in-depth, 150-page report and landscape analysis is authored by leading cooperative experts and practitioners.
Speakers include report authors Hilary Abell of Project Equity, Kim Coontz of the California Center for Cooperative Development and Ricardo Nuñez of the Sustainable Economies Law Center along with Leslie Payne of the James Irvine Foundation and members of California worker, housing and childcare coops.
This webinar is hosted in partnership with the James Irvine Foundation, the California Center for Cooperative Development (CCCD), Project Equity and the Sustainable Economies Law Center.