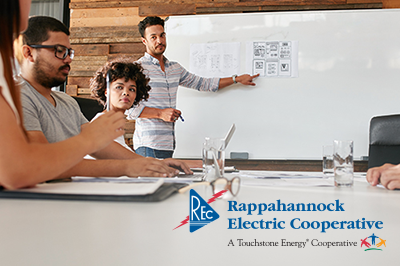 Join Rappahannock Electric Cooperative (REC) and the National Cooperative Business Association CLUSA International (NCBA CLUSA) tomorrow afternoon to learn about REC's Internship Connect program.
Scheduled for 1-2 p.m. EDT on Wednesday, June 9, this webinar will provide an overview of Rappahannock Electric Cooperative (REC)'s Internship Connect program, a professional learning experience that offers practical work-related opportunities for students in their field of study or their career of interest. You'll hear from Fafa L. Baker, Phd, MBA, Organizational Development Specialist at REC.
The Internship Connect program offers career exploration and development in an environment designed to build new skills. You'll learn how your course of study applies in the real world and build valuable experience that makes you a stronger job candidate. Internship Connect is also an opportunity to bring new ideas and energy into the workplace, cultivate talent, and build a pipeline of future employees.
WHAT YOU'LL LEARN
Apply knowledge acquired in the classroom to real-world situations
Develop analytical skills and expand your discipline
Build time management, communication and interpersonal skills
INTERNSHIP CONNECT SESSIONS
Resume Development: Build your skill set by learning to use clear and concise language, action verbs, and facts and figures to attract the interest of hiring managers and recruiters.
Interviewing Skills: Learn the mechanics of an interview and how to prepare for one by knowing the job description, researching the company, appearing professional, creating questions for the interviewer, and learning how to respond during an interview.
Link Up with LinkedIn: Learn how to build your brand as an intern by showcasing your skills and experience with a professional social media presence.