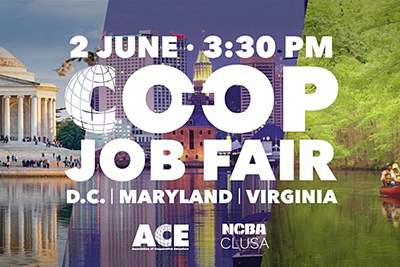 Just graduated, finished your term, or looking for the next step in your career? Looking for work experience in DC, Maryland and Virginia? Join us on Wednesday, June 2 from 3:30-5:30 pm EDT.
NCBA CLUSA and the Association of Cooperative Educators (ACE) are partnering to cohost a virtual Co-op Job Fair on Wednesday, June 2 with cooperative employers in the Washington, DC, Maryland and Virginia area. At this unique event, you'll discover exciting opportunities at organizations offering generous compensation packages, benefits and opportunities for career growth.
FIVE REASONS TO ATTEND
One-on-one interactions with recruiters looking to hire and onboard quickly
Companies in attendance are 100% democratically owned and controlled
High employer-to-attendee ratio ensures impactful exchanges
Ample time for facilitated virtual networking with co-ops in the DMV during the event
Free resume pre-screening ahead of the event
WHAT COMPANIES WILL I MEET WITH?