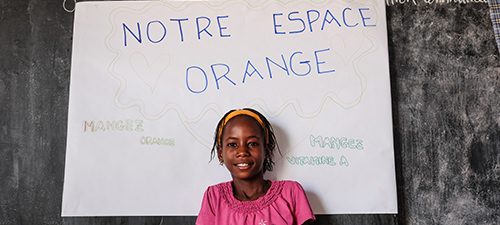 USAID|Yaajeende, NCBA CLUSA's second largest project in West Africa and the very first USAID Feed the Future project, has been extended for an additional two years, through September 2017, in a show of confidence in the holistic, nutrition-led agriculture approach developed under the project.
Confirmed by an independent study at the University Gaston-Berger in Dakar, in its first five years, Yaajeende, which means "abundance or prosperity" in the local Pulaar language, decreased child stunting by over one third, and households achieving a "minimum acceptable diet" tripled. Households receiving a "high" dietary score jumped to 73 percent in the zone of intervention.
These results come from an integrated "food system" approach to nutrition, agriculture and distribution, known as Nutrition-Led Agriculture. While increasing yields through improved agriculture techniques might increase incomes, if there are no nutritious foods available in the local villages, increased incomes will not lead to better nutrition. Food security and nutrition depend on a variety of factors, and focuses on addressing the Four Pillars of Food Security: Availability, Access, Utilization and Governance.
Similar to a sales value chain, a food system approach looks at each part of the food security chain from seeds to farms to plates. Various interventions across the food system from improved seed available through Community-Based Service Providers (CBSPs), to creating a market for nutritious food through community education have contributed to improved dietary status across the project regions.
Now, with funding for another two years from USAID, the Yaajeende project can fully transfer the management of these innovations to local governments, private businesses and community-based organizations, ultimately expanding its reach to more regions.
"With these additional resources, we will be able to transfer our work to community based organizations and local governments to assure that it carries on well past the end of the project," said Karl Rosenberg, Chief of Party for the Yaajeende project, and former West and Central Africa Regional Director for NCBA CLUSA. "We will be able to launch a social franchise called CultiVert that will standardize the quality of the goods, services and training provided by our Community-Based Service Providers who work in the agriculture, nutrition and hygiene sectors. In short, these two years will assure the sustainability of the positive impacts we have seen over the first five years of project implementation."
During a community meeting held on his visit to Yaajeende villages, Ambassador James Zumwalt said that Yaajeende is known as a success and provides a model that others should replicate. "When my colleagues at USAID discuss how to improve food security and nutrition around the world, they often talk about Yaajeende and the work that NCBA CLUSA does," he said.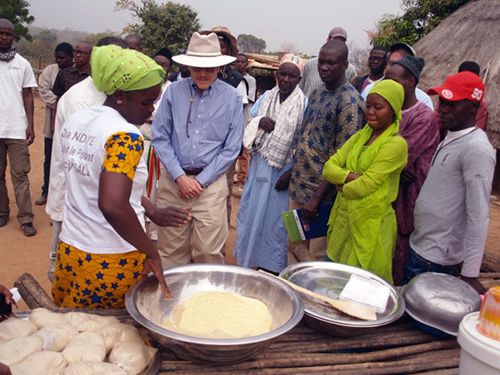 During his visit, Ambassdaor Zumwalt was able to meet with individuals and families whose lives have been positively impacted by the project. In Kafory village, the Debbo Galle (Good Mother) women's group gave a demonstration of how they make fortified flour using locally produced foods such as high-protein maize, beans and orange-flesh sweet potatoes. The orange-flesh potato was introduced through the project when it was determined that intervention communities had high deficiencies of Vitamin A. Khassatou Coulibaly, a member of the women's group, said she makes 10-12 kg of fortified flour per month for her three children, in addition to the fresh fruits and vegetables she is able to feed them from her home garden, which she planted after training from the project.
The head nurse of this region noted that thanks to the enriched flour made by the women, there has been an elimination of severe malnutrition cases and a drastic reduction of moderate malnutrition in the Dimboli municipality.
Another aspect of the project, in partnership with Heifer International, involves "Pass on the Gift" programs where mostly women-led targeted households receive livestock to raise, breed and pass on to another family. Aissatou Lamarana Diallo, also from Dimboli region, received six hens in 2013. After breeding and passing on the chicks to another family, by the end of 2015 she had 20 hens and three ewes. Learning to raise the hens, she had exchanged nine for an ewe in her second year, both improving her family's nutrition and also providing income and a sustainable livelihood. In the first five years of the project, animals were placed in 9,000 households.
"Thanks to the hens, I managed to pay for the school supplies for my son who just received his high school diploma," Aissatou said. Her son was recently admitted to a local university.
Over its first five years, Yaajeende has increased sustainability by linking CBSPs, or local entrepreneurs, to private suppliers for sales of nutrition and hygiene improvement products, including improved seeds and fortified flour to hard-to-reach communities. CBSPs, like Alassane in Matam region, sell inputs such as seeds and fertilizer for horticulture and grain production. He currently brings in 2.7 million CFA, or $4,620 USD annually—more than four times the average national income. By increasing the market demand for these products, and by assuring consistency through the CultiVert social franchise, this private sector network will grow in capacity and reach. In 2015, 354 CBSPs generated approximately $1 million in sales on behalf of almost 30 wholesalers bringing needed products to communities and creating income for themselves.
Yaajeende is funded by USAID and implemented in partnership with Counterpart International, Sheladia Associates and Heifer International.