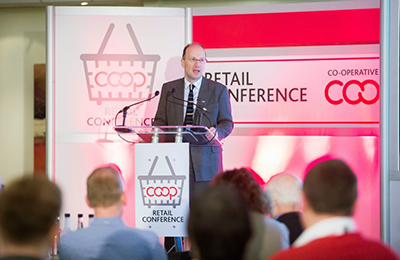 Leaders, managers and directors of consumer-owned retail cooperatives in the United Kingdom will meet in Cheshire, England this weekend to navigate the retail industry's fast-changing landscape, a tough economic climate and uncertain Brexit.
Hosted by Co-operatives UK, the 2019 Co-operative Retail Conference spotlights technology and its impact on sustainability, telecommunications and the way consumers pay for goods and services. The event is also an opportunity to focus on the broader opportunities and challenges that the current retail landscape presents.
"As we stand on the brink of Brexit, in whatever form it may take, the future perhaps seems less certain than ever," Ed Mayo, secretary general of Co-operatives UK said. "What is certain is that our values, the fact we are owned and run for the benefit of our members, continues to differentiate us from our competitors."
On Sunday, March 10, delegates will hear from NCBA CLUSA president and CEO Doug O'Brien, along with Robin Fieth, CEO of the Building Societies Association, on how national associations are adapting to meet member needs.
Follow O'Brien on Twitter @dobrien_coop for updates during the conference and a trip to the Rochdale Pioneers Museum that celebrates the birthplace the modern cooperative movement.
Delegates will also hear from Stephen McDow, Membership Director of Keystone Development Center, an NCBA CLUSA member. With examples including Durham Co-op Market and Weavers Way Co-op, delegates will benefit from insight into the American response to fierce competition in the grocery sector.
Download the full agenda here.
---
The network for Britain's thousands of cooperative businesses, Co-operatives UK works to promote, develop and unite member-owned business worth £36 ($47) billion to the British economy.