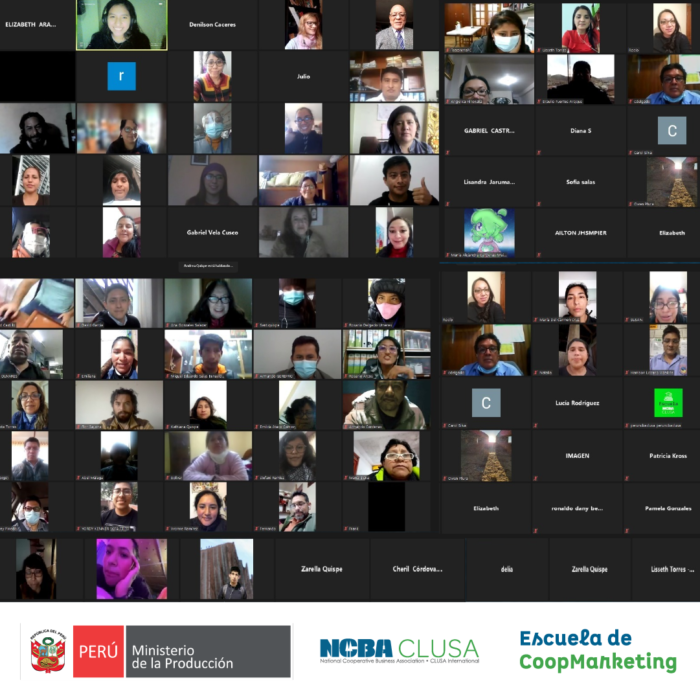 The COVID-19 pandemic has caused tremendous economic hardships on people around the world. In Peru, COVID-19 has had a particularly severe impact on the cacao and coffee sectors and the ability of farmers to market their products. Typically, farmers rely heavily on the sales of their products through in-person community markets, their farms, or stores.
Fortunately, in the last decade the digital world has provided entrepreneurs with platforms such as Instagram, Twitter, and Tik Tok to create thriving multifaceted businesses. People today can easily access ads for new online stores and products catered to their interests and desires, and products that can be delivered to their doorsteps at the click of a button. With this clickable purchasing ability, businesses can increase and expand sales to other parts of the world. Although these platforms are available for marketing products, many people—including older farmers—are unaware of how to harness these resources to grow their brands and businesses.
In January 2021, NCBA CLUSA's Creating an Environment for Cooperative Expansion (CECE) project, funded by USAID's Cooperative Development Program (CDP), launched a virtual Coop Marketing School to provide cacao and coffee cooperatives with trainings on how to market their products online. These online courses have largely attracted younger members of cooperatives, children of cooperative members, and other young entrepreneurs—most of them women. As a virtual program, the Coop Marketing School has attracted participants involved in other value chains such as crafts, jewelry, and Andean beans. The program also welcomed participants from outside Peru, including El Salvador and the Dominican Republic.
By May of 2021, the Coop Marketing School had completed three courses focused on digital marketing and video production. Nearly 400 participants attended these expert-led sessions, and 98% of them were youth. Class recordings have been posted to NCBA CLUSA Peru's Facebook and YouTube accounts, providing the Coop Marketing School with access to a wider audience. Some recordings have received as many as 4,560 views. Lizbeth, a 27-year-old administrative assistant for the COCLA coffee cooperative in Cusco, has discovered her passion for and talent in marketing through the Coop Marketing School. Now she is sharing what she has learned with other cooperatives and is also actively participating in COCLA's marketing efforts.
The Coop Marketing School continues to develop based on demand and has carried out additional courses on storytelling, photography and videography. The program recently initiated an Instagram and Content Marathon to increase business visibility.
NCBA CLUSA's USAID-funded Farmer-to-Farmer (F2F) program is also creating opportunities for youth to build their social media marketing skills and learn about branding strategies. For example, youth members of the Corporación Fortaleza del Valle in Ecuador participated in branding strategy trainings led by a pair of volunteers based in Ecuador and the U.S. The chocolate and cocoa markets of Ecuador are quite competitive, so this branding strategy training, which took place in July 2021, focused on increasing the competitiveness and visibility of Corporación Fortaleza's products in Ecuadorian markets. The Director of the Corporación Fortaleza del Valle, Berto Zambrano, remarked enthusiastically, "From now on, we will have a window into the world now that we know what content to publish and who it should be tailored to, among other things. Now our commercial members and anyone who wants to know more about the activities of our organization can have access."
Although the pandemic continues, disproportionately impacting youth and other vulnerable groups, new opportunities to engage youth have also arisen. The Coop Marketing School and Farmer-to-Farmer volunteer trainings are just two examples of how virtual trainings in social media engagement, marketing and branding can increase youth participation in cooperatives and support other young entrepreneurs.