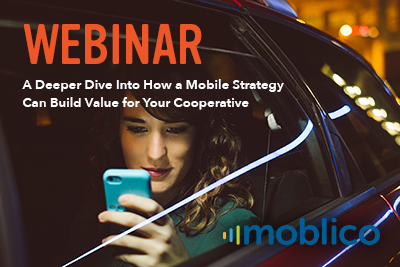 Join NCBA CLUSA and our associate member Moblico, a mobile relationship management company, on Thursday, December 17 from 1-2 p.m. for a free webinar on building engagement through mobile communication and marketing solutions.
During "A Deeper Dive Into How a Mobile Strategy Can Build Value for Your Cooperative," Moblico co-founder and CEO Pierre Barbeau will discuss how shifting more business to mobile can benefit your members and customers, making engagement and transactions easier, faster and more convenient.
During this webinar, Moblico will explore how specific programs such as text-to-landline, broadcast messaging and mobile apps can help cooperatives grow their businesses.
With Americans spending 30 percent of their waking hours on their mobile devices, a mobile strategy is more critical than ever.
Register now to learn how a partnership with Moblico can build value for your co-op by improving customer service, expediting orders and engaging and expanding your member and/or customer base.
Moblico is currently a service provider to NCBA CLUSA members including Blue Hawk, IMARK and Industrial Distributor Cooperative (IDCO).
NCBA CLUSA associate members like Moblico provide the key business and educational resources cooperatives need to better serve their members, employees and customers.