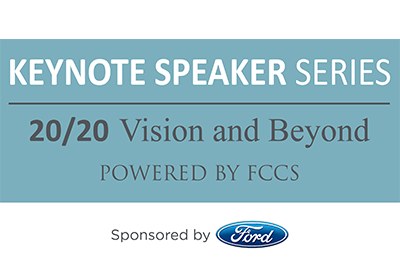 To tackle today's challenges, you must operate differently, lead differently and think differently. NCBA CLUSA is pleased to support the 20/20 Vision and Beyond Keynote Speaker Series offered through our associate member FCC Services to help you meet the complex new challenges of 2020.
The lineup of speakers is diverse by design, allowing each person in your organization to find one or more webinars to participate in. Join us to shape your vision and strategy for 2020 and beyond.
Navigating difficult times requires innovative thinking to stay relevant. In next week's installment of the 20/20 Vision and Beyond Keynote Speaker Series, speaker, author and consultant Scott Deming will unpack the formula for creative lender thinking that goes beyond the standard and brands you as the "New Norm in Lending." This program will help you to create new sales opportunities and lasting customer relationships.
Join FCC Services next Tuesday, October 6 from 1-2 pm for "Selling and Growing During Difficult Times: Be the New Norm in Lending." An expert in brand development and strategic planning, Scott Deming has 30+ years of experience in business ownership, board positions, working with small, independently-owned companies as well as multi-national, publicly traded corporations, employee relationship expertise and customer experience savvy.
Watch the preview below!