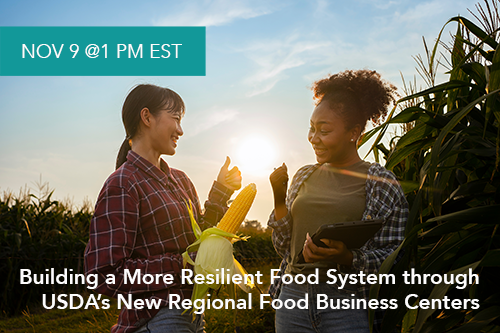 Does your cooperative or partner organization work in the areas of food systems, rural development, market access or food security? The deadline for a new funding opportunity from the U.S. Department of Agriculture (USDA) has been extended from November 18 to December 15, 2022. You could help shape USDA's new Regional Food Business Centers!
See the other organizations already partnering with USDA on this program. 
Want to apply for this opportunity, or just learn more about how your co-op can plug into USDA's programs? Join us on Wednesday, November 9 from 1-2 pm EST to hear from Kate Fitzgerald and Samantha Schaffstall Dopp from USDA's Agricultural Marketing Service, and bring your questions!
Led by Fitzgerald, USDA's Agricultural Marketing Services (AMS) is standing up the new Regional Food Business Centers Program. These centers will provide coordination, technical assistance and capacity building to help underserved farmers, ranchers and other food businesses access new markets and navigate federal, state and local resources—closing gaps and barriers to success. Regional Food Business Centers will also assist small- and mid-sized producers and food and farm businesses to create a more resilient, diverse and competitive food system. While USDA has not yet determined the locations of the hubs, it has identified four high priority areas: Colonias (counties along the U.S./Mexican border); the Delta and Southeast; Appalachia; and a National Tribal Center. The funding range is between $15 and 50 million for up to a 60-month duration.
Check out USDA's FAQs to learn more about this opportunity, and bring your questions on Wednesday!