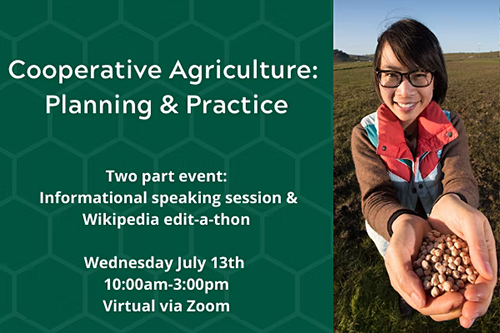 Join the U.S. Department of Agriculture (USDA)'s National Agricultural Library (NAL) for a two-part event on Wednesday, July 13 from 10 am – 3 pm EDT. The morning will kick off with a webinar featuring Terence Courtney, Director of Cooperative Development and Strategic Initiatives at the Federation of Southern Cooperatives/Land Assistance Fund; and Doug O'Brien, president and CEO of NCBA CLUSA. Courtney will highlight the federation's history and work, offering insights into the power and positive impact of self-supporting communities and cooperatives, and O'Brien will unpack the procedural and legal issues involved in creating an agricultural cooperative.
After a lunch break, the event will continue with a Wikipedia edit-a-thon led by NAL's Wikimedian-in-Residence. During this session, attendees will have the opportunity to edit articles related to agriculture, cooperatives, land loss and access, and related policy.
Your confirmation email from Eventbrite will include the Zoom link and a password to access the event. Full-day attendance is not required; feel free to come and go as you wish.
If you'd like to be part of the edit-a-thon, be sure to create a Wikipedia username beforehand. Visit the Wikipedia Event Page to see the work list, references, and find more information. Attendees of all experience levels (including those with no experience) are welcome to join.