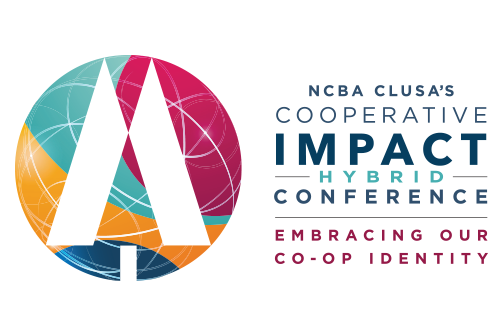 We've added three more weeks to save on this year's premier 2021 Cooperative IMPACT Conference! Register by Thursday, September 30 to take advantage of our exclusive early-bird rate of $50 for NCBA CLUSA members and $75 for non-members on all virtual programming.
With opportunities for virtual and in-person programming and networking, this year's hybrid event offers something for everyone—whether you live in the Washington, DC Metro area, plan to travel here in October or prefer to attend our virtual programming from the comfort and convenience of your home or office. Once again, we're excited to bring the only national, cross-sector cooperative event to the widest possible audience with a robust lineup of accessible, affordable programming.
Throughout the month of September, NCBA CLUSA members pay just $50 for all virtual programming.
Under the theme, "Embracing Our Co-op Identity," the 2021 Cooperative IMPACT Conference will challenge cooperators everywhere to deepen their understanding of the values and principles that truly make cooperative enterprise unique.
Don't miss this opportunity to join us in October! We'll explore the cooperative difference in home care, learn how worker cooperatives can pave the way to a just and equitable recovery, reimagine cooperative Appalachia, hear how the Colorado solar energy industry is providing a powerful approach to expanding the cooperative economy, and much more!
Our dedicated international programming—available to development practitioners free of charge—will cover entrepreneurship, climate change and co-op principles in practice. Made possible by the U.S. Agency for International Development (USAID), these sessions are hosted in partnership with the U.S. Overseas Cooperative Development Council (OCDC) and its members.