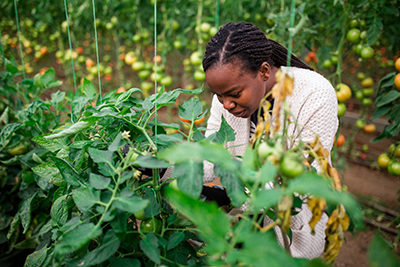 Dãnia Davy, director of Land Retention and Advocacy at the Federation of Southern Cooperatives/Land Assistance Fund spoke to Nonprofit Quarterly last month about what a pro-Black farmer policy regime would look like.
Most folks know that the promise of "40 acres and a mule" was not honored after the Civil War, Davy writes. "What is less known is that during Reconstruction many Black Americans managed to purchase land anyway, scrounging their hard-earned dollars to escape sharecropping, improve their living conditions, provide for their families, and create thriving communities. By 1910, roughly 218,000 Black farmers had acquired 15 million acres of land."
In response, "white people implemented a variety of legal and illegal practices to effectively intimidate and drive Black Americans from their land," Davy continues. "Perhaps one of the most common mechanisms of dispossession is through white developer manipulation of heirs' property rules." By 1992, there were only 18,000 Black farmers remaining, owning just 2.3 million acres.
In 1990, Congress first recognized the longstanding and well-documented history of race-based discrimination against farmers and ranchers of color. But programs and services to support socially disadvantaged farmers have been few and underfunded. Most recently, the Biden Administration's American Rescue Plan Act has seen pushback from white farmers for its emergency debt relief provisions for farmers and ranchers of color.
Read the full article to find out the five themes Davy believes should guide a pro-Black farmer policy regime.
"A pro-Black farmer policy regime is a fundamental piece of achieving systemic racial equity in agriculture." – Dãnia Davy, director of Land Retention and Advocacy, Federation of Southern Cooperatives/Land Assistance Fund