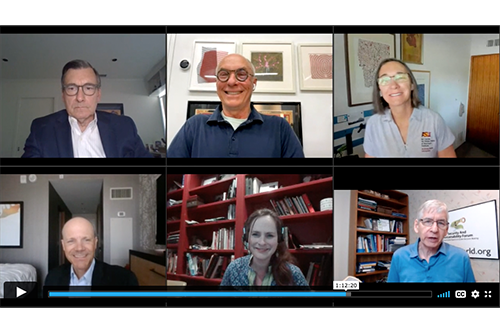 After more than 30 years since a major investment in infrastructure in the U.S., officials are grappling with how best to spend the $1.2 trillion Infrastructure Investment and Jobs Act and an additional $350 billion provided by the American Rescue Plan Act for infrastructure-related needs.
That was the topic of a webinar last week co-hosted by Lightworks at Arizona State University (ASU) and the Security and Sustainability Forum featuring Doug O'Brien, president and CEO of NCBA CLUSA; Teri Viswanath, a Lead Economist in Cobank's Knowledge Exchange Division; Sarah Porter, Director of the Kyl Center for Water Policy at ASU's Morrison Institute for Public Policy; and Hank Habicht, Co-founder of the Water Finance Exchange.
During "Shovel Worthy, Not Just Shovel Ready," panelists considered strategies that not only address immediate infrastructure needs, but also "future proof" investments in rural America as natural disasters from hurricanes and heatwaves—exacerbated by climate change—threaten existing and new infrastructure.
Cooperatives immediately emerged as a key strategy, as both O'Brien and CoBank's Teri Viswanath cited the legacy and potential of the business model to meet ambitious infrastructure needs. The story of rural electrification illustrates the transformative power cooperative enterprise has when coupled with a favorable policy environment. Within a generation, consumer-owned electric cooperatives had turned the lights on in 90 percent of rural farms and households—communities ignored for decades by investor-owned utilities.
Today, rural electric cooperatives serve more than 42 million people across 2,500 counties, including 92 percent of America's persistent poverty counties. With one in three Americans belonging to a co-op, there is potential for profound impacts in quality of life and climate resiliency.
While the panel centered on meeting the water demands of the American Southwest, panelists surfaced key themes that could be applied to other areas of infrastructure, including broadband, power and climate resiliency. One theme was innovation.
"Sometimes we're trying to fix today's problems with yesterday's policy tools," Viswanath said, noting that infrastructure projects must be flexible enough to allow for innovation and creativity.
Part of flexibility means knowing what works best in a given context, O'Brien added. And as people-centered businesses, co-ops are uniquely poised to create locally informed and led solutions. In fact, making sure a community has ownership and control of an infrastructure project is one of the best ways to ensure its sustainability, he said.
Panelists also addressed equity. "Who decides what's 'shovel-worthy'?" O'Brien asked. The new influx of infrastructure resources should prioritize equity when answering that question, he said. "We've got to keep people—particularly those who have been historically underserved—at the center of our visioning and decision making," O'Brien said.
Bill Brandt, Director of Strategic Integration for ASU Lightworks, who moderated the panel, wrapped up the discussion by asking panelists to share a reason they are optimistic, despite the crises American infrastructure is facing.
The Infrastructure Investment and Jobs Act being the biggest bipartisan spending in 50 years came up. So did the fact that a growing number of people truly care about moving the needle on climate resilient infrastructure—not just leveraging the topic for political gain.
O'Brien said he was encouraged by younger, emerging leaders who demonstrate a "generational shift" in how they approach systemic problems. Leaders at the local level who are willing to invest their time and social capital to achieve public welfare goals are also critical. "How do we identify and cultivate these folks?" O'Brien asked.
"At the end of the day, it's people who move these things forward."