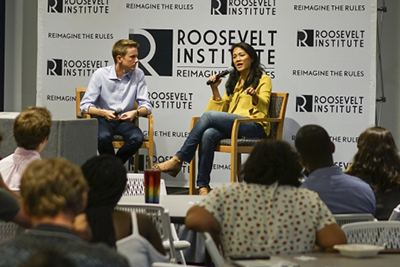 Felicia Wong, president and CEO of the Roosevelt Institute—a New York-based think tank and campus network that promotes a bold economic vision—will present the opening keynote address at the 2019 Co-op IMPACT Conference in Arlington, Virginia next month.
Register now! Don't miss your opportunity to be part of the conversation at this year's only national, cross-sector conference for cooperatives.
In a presentation called "The Next Economy: Will Broader, Inclusive Ownership go Mainstream?" Wong will explore why rising inequality, stagnant wages and a deepening racial wealth gap are prompting elected officials and business executives to rethink market fundamentalism.
In August, 181 of America's most powerful CEOs issued a statement expanding the purpose of a C-corporation to include not just shareholders, but a broader responsibility to society. At the same time, leading politicians on both sides of the aisle are considering more public—more cooperative—forms of ownership, and even new ways to govern major corporations.
During her keynote, Wong will put the cooperative business model in the context of other ideas for strengthening the economy through broader and more inclusive frameworks. She'll explore the signs pointing to a broader, more inclusive economy and how cooperatives can help drive that transformation.
At the Roosevelt Institute, Wong heads up the think tank's work on rewriting the rules agenda, a comprehensive economic program and narrative that has become increasingly influential. She is the co-author of The Hidden Rules of Race: Barriers to an Inclusive Economy (Cambridge University Press, 2017) and her work has appeared in the New York Times, the Washington Post, Time, Democracy: A Journal of Ideas, and the Boston Review. She holds a Ph.D. in Political Science from the University of California, Berkeley, and is a co-author of the forthcoming "Rewrite the Racial Rules: Building an Inclusive American Economy."
At IMPACT 2019, you'll take away stability and sustainability strategies from America's top co-ops; learn how to embed diversity, equity and inclusion into your work; and hear from policymakers on how co-ops can build stronger communities.