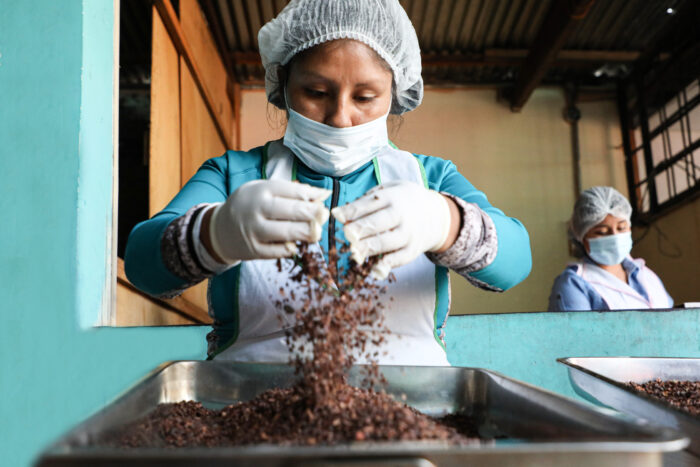 The National Cooperative Business Association CLUSA International is pleased to announce that the U.S. Department of Agriculture (USDA) has awarded the organization the Food for Progress (FFPr) Peruvian People, Nature, and Spices Partnership (PENS).
The $23.3 million, five-year project will build on the successes of NCBA CLUSA-led programs, including our current USAID-funded Cooperative Development Program (CDP) and Farmer-to-Farmer (F2F) Program in Peru, as well as numerous other USDA FFPr and USAID programs supporting climate-smart agriculture and global trade in ginger, turmeric, vanilla, coffee, cocoa, black pepper, cloves, nutmeg, and other spices.
Balancing land use demands for human well-being and the environment, our landscape-driven approach will advance a Peruvian spice industry risk management model designed to generate $100 million in sales, create 10,500 new jobs and support 12,000 farmers to achieve inclusive living incomes.
The award comes as part of USDA's $178 million investment in seven international development projects on four continents to support U.S. government priorities, including climate-smart agriculture, facilitating trade, and addressing the root causes of migration in Central America.
"Food for Progress is a cornerstone of USDA's international capacity-building efforts," Agriculture Secretary Tom Vilsack said in a press release. "This year, as we emerge from a global pandemic and face the challenges of rising hunger and poverty, climate change and the worldwide fallout of Russia's brutal war on Ukraine, this work is more important than ever."
PENS will take place under USDA's Food for Progress Program, which helps developing countries and emerging democracies modernize and strengthen their agricultural sectors. Food for Progress has two principal objectives: to improve agricultural productivity and to expand trade of agricultural products.
For more than 65 years, NCBA CLUSA has worked in 100+ countries in Africa, Latin America, and Southeast Asia, building resilient communities, creating economic opportunities, and strengthening cooperatives and producer organizations. Our work empowers smallholder farmers, women, and youth in the areas of food security and nutrition-led agriculture, climate-smart agriculture, market development, natural resources management, positive youth development, gender equality and enabling regulatory environments.