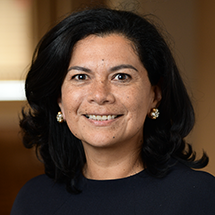 President and CEO
DC Credit Union
Carla Decker has served as President and CEO of DC Credit Union (DCCU) since 2001. Under her leadership, DCCU expanded its service area from an employer-based field of membership to one led by a mission in community development and service to the under-served. DCCU leverages impact through public and private partnerships to lift up the most financially vulnerable, from youth to social service recipients to immigrants.
DCCU's bilingual community branch addresses the otherwise unmet financial needs of Latino immigrants in the District. In 2017, Carla made the list of the 100 Most Influential People to the Hispanic Community in DC by "El Tiempo Latino," the principal Spanish language news publication in the metropolitan area. For its mission of financial inclusion, DC FCU is designated by the Treasury Department as a Community Development Financial Institution or CDFI. Today, the credit union continues to leverage that designation by contributing to public policy initiatives such as "Financially Fit DC," continuing to grow a network of strategic public-private partnerships, and utilizing grant funding to build human and financial capital.
Carla is co-founder of the Network of Latino Credit Unions & Professionals. She serves on the boards of the National Federation of Community Development Credit Unions, the National Cooperative Business Association, and the Cooperative Development Foundation. She is also the U.S. representative to the board of the Americas' Region of the International Cooperative Alliance.
She is an International Credit Union Development Educator. Since 2010, she has designed and delivered curriculum on behalf of the Caribbean Development Education program. Over 900 cooperative professionals and volunteers have graduated from this leadership development program, and gone on to strengthen the region's movement. For this work, in 2017 she earned the "Joe Biden Development Educator of the Year" award from the International Credit Union Leadership Foundation in the United Kingdom.
Carla holds a master's degree in International Commerce and Politics from George Mason University in Virginia. She was born and raised in Lima, Peru.