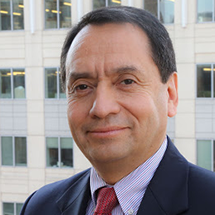 Director, Latin and Central America
NRECA International
Fernando Mercado has over thirty years of experience in the energy sector with specific experience in engineering and management operations of rural electric utilities. As Director for Latin and Central America at NRECA International, he has supervised work-out projects for financial challenged utilities, and overseen project design, procurement and construction activities for rural electrification projects in Bolivia, Guatemala, the Dominican Republic, El Salvador, Haiti and other countries in the Latin American Region.
Fernando has a vast experience in isolated systems and was in charge of the training program to improve the operations of more than 15 isolates systems in Bolivia, most of them diesel, including solar and biomass. He was part of the NRECA team to implement wind-diesel generation systems for isolated communities in remote areas in the south in Chile for NREL. In the last five years, he was oversaw the implementation of the solar-diesel hybrid off-grid system in the south of Haiti and the management of an isolated electric utility, heavy fuel oil and diesel oil generation in the north of Haiti. He was responsible for development of technical standards for rural distribution system construction that have been adopted by the government of Bolivia for NRECA construction projects in this country covering more than 2,000 km of 25kV and 35kV line.
Fernando earned a master's degree in Electrical Engineering from the University of Arkansas in Fayetteville, Arkansas in 2005 and a bachelor's degree in Electrical Engineering from the Federal University of Santa Maria in Brazil in 1985. He also created an extensive training course in renewable energy in Italy. Fernando speaks and writes fluent Portuguese as well as Spanish and English.