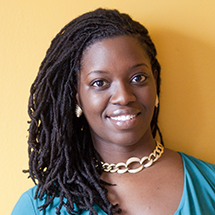 Program Manager, Community Wealth Building Initiatives
Washington Area Community Investment Fund
Jennifer Bryant is the Program Manager for Community Wealth Building Initiatives at Washington Area Community Investment Fund (Wacif), one of the DC area's leading Community Development Financial Institutions focused on small business development. Wacif's mission is to increase equity and economic opportunity in underserved communities in the Washington, DC area by investing knowledge, social and financial capital in low- and moderate-income entrepreneurs. In the past seven years, Wacif has invested over $9 million throughout the region. Jennifer leads the DC Employee Ownership Initiative, a strategic investment to preserve legacy businesses and create new pathways to entrepreneurship. Her work is grounded in the belief that shared ownership and community wealth are central to building racial and economic equity.
The DC Employee Ownership Initiative provides training, technical assistance and access to capital for employee ownership conversions. It also supports existing and emerging employee-owned businesses in the District. This year, Wacif and Capital Impact Partners joined together to launch the inaugural DC Co-op Impact Grant. The partnership awarded $40,000 in grants to seven DC area cooperatives led by people of color.
Jennifer is committed to revitalizing and expanding employee ownership in the District. She is a community fellow with the Shared Equity in Economic Development (SEED) fellowship—a year-long program that convenes and equips city leaders with tools, resources and expertise to create broad-based employee ownership. She is a member of the DC Cooperative Stakeholders Group, which was initiated by the DC Department of Small and Local Business Development in 2016.