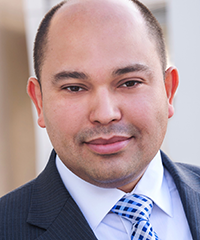 Juan Fernandez is the Vice President of Governmental Affairs for the Credit Union Association of New Mexico. His work in cooperatives began at an early age as a credit union teller while pursuing his college degree. In addition to serving as Vice President of Governmental Affairs, Juan serves as the President and CEO of Leverage Point, a firm that helps credit unions and other cooperatives with public affairs and government relations services, and sits on the La Montañita Food Cooperative Board of Directors. Prior to his work in New Mexico, Juan held positions leading credit union community development efforts in New York. Throughout his career, he has worked with credit unions to help them seize opportunities to serve unmet needs in their communities, empower their members, and achieve sustainable growth.
In New Mexico, Juan's team has drafted and successfully passed legislative initiatives that have enabled credit unions to better reach and provide services to the underserved. Juan has worn many hats in pursuit of these laws. He built coalitions, forged the relationships needed to drive effective change, and brought people together to achieve consensus across political lines and ideologies.
Juan's career has also involved work to help lift underserved communities in the states where he has lived through the development of partnerships and new programs and services. Juan was responsible for launching REAL Solutions in New York, which obtained and leveraged millions in grant funding to deliver in-person financial literacy and place PSAs on radio and television statewide. Most recently, Juan launched programs to help New Mexico credit unions achieve Community Development Financial Institution (CDFI) certification and serve needs that were not met by other financial institutions. He has volunteered for La Montañita Food Cooperative and was elected treasurer by its board in 2018. His experience across segments of the cooperative movement—in particular with economic development initiatives—has led Juan to pursue a stronger and more vibrant cooperative collaboration across the movement.
Born and raised in Puerto Rico, he is passionate about helping cooperatives reach Latino, immigrant and communities of color. Juan received his bachelor's degree in Economics from Binghamton University and his MBA from Western Governors University. He lives in Albuquerque with his husband Jonathan and their two Chihuahuas.