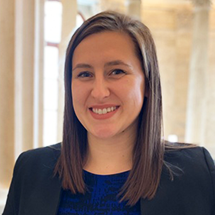 Director, Government Relations
NCBA CLUSA
Kate LaTour is the Director of Government Relations for the National Cooperative Business Association CLUSA International. Prior to joining NCBA CLUSA, Kate served as a Legislative Aide in the U.S. Senate working on economic policy issues.
She earned her bachelor's degree from the University of Wisconsin-Madison, majoring in Political Science and International Affairs, and is currently pursuing a master's degree from Johns Hopkins University.