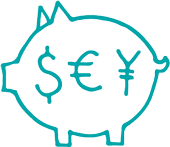 FINANCIAL SERVICES CO-OPS
One-third of the U.S. population belongs to a credit union. Financial cooperatives and credit unions help strengthen the economy and empower people with ownership over their financial institution.
WHAT IS A FINANCIAL CO-OP?
Financial cooperatives are nonprofit institutions providing services exclusively to their members. They offer a complete range of high-quality transactional, credit and protection services, just like a bank.
Unlike a traditional bank, however, account members act as the owners of a co-op credit union. These organizations generally operate on a one-member-one-vote democratic basis. Conversely, standard, publicly traded banks reward their investors with more voting power as their share of equity increases.
Financial co-ops also tend to focus on their members' financial health over maximizing shareholder profits. Revenue is returned to members through higher dividends, fewer fees and lower interest rates.
Additionally, financial co-ops are typically risk-averse institutions. They often embrace more conservative approaches to liquidity and adopt more considered measures for extending credit. As a result, many of these organizations are better able to weather disruptions.
A BRIEF HISTORY OF CO-OP FINANCIAL SERVICES
Cooperative financial organizations first debuted in Germany during the mid-1800s courtesy of politician and judge Hermann Schulze-Delitzsch. He founded the initial one in 1850 to persuade workers to pool their resources and save money.
The concept spread to additional German states and expanded its purposes to attract investment dollars from other communities as loans. Soon, surrounding countries began adopting the model, eventually bringing it to their immigrant colonies in North America. Financial co-ops in the U.S. can also trace some roots back to early agencies specifically formed to serve the unique needs of the agricultural sector.
THE IMPORTANCE OF FINANCIAL CO-OPS
Credit unions are located in almost every congressional district in all 50 states. Since financial co-ops meet the needs of people in rural, underserved communities, they make it possible for millions to achieve significant milestones in life. Without cooperative credit unions, these communities would not have access to capital to buy their first car, first home or start a business.
KEY FACTS ABOUT FINANCIAL CO-OPS
Cooperative financial institutions are not-for-profit organizations that benefit their member-owners, not stockholders. Some facts about financial co-ops include:
There are over 100 million credit union members and more than 7,000 credit unions nationwide
275,000 people work at credit unions in the U.S.
Globally, there are over 75,000 credit unions in 109 countries, with 260 million members
Examples of financial co-ops include Navy Federal Credit Union, Alliant Credit Union and PenFed Credit Union.
FINANCIAL COOPERATIVES: COMMITTED TO THE SEVEN COOPERATIVE PRINCIPLES
In 1995, the International Co-operative Alliance adopted the seven cooperative principles. Credit unions operate under these principles to serve the needs of their members:
Voluntary and inclusive membership: Financial co-ops offer their services to anyone, without discrimination.
Democratic member control: Each member has an equal opportunity to participate in the co-op's policies.
Members' economic participation: Member-owners benefit from the credit union's profits.
Autonomy and independence: Any business deals must not compromise the co-op's democratic member control.
Education, training and information: Credit unions offer education and training so members can contribute to the co-op.
Cooperation among cooperatives: Co-ops work together to benefit their members and strengthen the cooperative movement.
Concern for community: Cooperative financial institutions work for sustainable economic development in local communities.
All cooperative credit unions uphold equality and equity, regardless of gender, race, religion, political affiliation or socio-economic factors. Some credit unions determine membership eligibility based on geographical area (State Employees' Credit Union in North Carolina), profession (National Police Credit Union) or military service (Navy Federal Credit Union).
ASSOCIATIONS FOR FINANCIAL CO-OPS
National and international organizations help promote the mission of cooperative financial institutions:
Numerous state-level associations, such as the New York Credit Union Association and Pennsylvania Credit Union Association, also support financial cooperatives.
Additionally, specialized financial co-op membership organizations exist, like CU Pride. The World Council of Credit Unions sponsors multiple niche associations, including the World Council's Young Credit Union Professionals. The Council also has programs targeting specific development and investment opportunities.
NCBA CLUSA STANDS WITH FINANCIAL SERVICES CO-OPS
Credit unions invest in their members and communities to meet account holders' banking and credit service needs. In doing so, cooperative financial institutions help deepen the footprint of the cooperative moment.
NCBA CLUSA works with its partners and members to build a more inclusive economy together. As an NCBA CLUSA member, you can join us as we advocate for inclusive economies around the world.
Consider becoming a member today or reach out online with any inquiries.