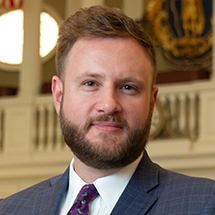 Member
Massachusetts State Senate
Sen. Julian Cyr serves in the Massachusetts State Senate representing Cape Cod, Martha's Vineyard and Nantucket. First elected to the State Senate in 2016, Julian is now serving in his second term and is the youngest senator in the 40-member body. He is the Senate Assistant Majority Whip, Chair of the Joint Committee on Mental Health, Substance Use and Recovery, Vice Chair of the Joint Committee on Housing, and serves on committees with oversight of health care policy, public health, municipalities and regional government, and education.
Julian has experience in public policy, health advocacy, organizing and social justice. Prior to his election, he served as director of Policy and Regulatory Affairs for Environmental Health at the Massachusetts Department of Public Health. Previously, under Massachusetts Governor Deval L. Patrick, he worked closely with members of the Legislature as deputy director for Government Affairs at the Department of Public Health. From 2011-2017, Julian also served on the Massachusetts Commission on Lesbian, Gay, Bisexual, Transgender, Queer and Questioning (LGBTQ) Youth, including a highly productive tenure as chair in 2013 and 2014.
Beginning in 2017, Julian led an effort to refund and relaunch the Massachusetts Office for Employee Involvement and Ownership (MassEIO) working with MA State Rep. Paul Mark and MA Senate President Karen Spilka. The effort led to the successful relaunch of the office in April 2019, now named the Massachusetts Center for Employee Ownership.