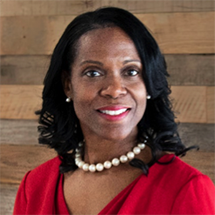 Executive Vice President and CFO
NCBA CLUSA
Valeria Roach is the Executive Vice President and Chief Financial Officer of NCBA CLUSA. Ms. Roach has over 30 years of experience in the profit, not-for-profit and NGO industries in domestic and global operations. She has extensive international cooperative development experience in Africa, Asia, Central America, Eurasia and the Middle East. Her expertise includes financial management, strategic development, government contract acquisition, government contract accounting, program management, compliance and capacity building. Additionally, she has extensive experience with negotiating indirect cost rate agreements with the U.S. Government.
Ms. Roach earned her master's degree in Business Administration (MBA) and Accounting from the University of Phoenix and has received executive advanced certificates from Massachusetts Institute of Technology (MIT) Sloan School of Management, Leadership America Premier Women's Leadership Program, and the Center for Creative Leadership. Ms. Roach serves on the Cooperative Business International (CBI) Board of Directors and chairs the Talent and Compensation Committee.