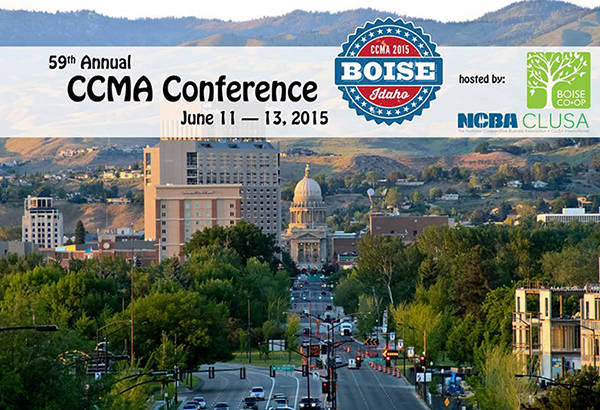 This year's annual CCMA Conference (Boise, June 11–13) will host a national conversation on how food co-ops can thrive in today's increasingly competitive environment.
You can be part of the conversation by presenting an informative, inspiring, interactive, change-inducing workshop related to one of the key opportunities for food co-op success, including:
• Strategic Governance and Leadership
• Embracing Change
• Being the Very Best Food Store
• Growing Our Co-ops
• Making an Impact/Telling Our Story
• Workshop medley (topics that don't fit into another category)
Presenters will receive one complimentary conference registration.
Workshop proposals should include:
• Proposed/working title
• Short description (100 words or fewer)
• Presenter's name, title, company, email, phone number and mailing address
• A brief background on the presenter
• Any requirements the presenter may have (e.g., AV, room setup, etc.)
Proposals must be received before February 6, 2015. Send your proposal to Marilyn Scholl at marilynscholl@cdsconsulting.coop.
Workshop topics will be selected by February 13. You will be informed of the status of your proposal by February 20.
If you have questions about submitting a proposal to speak at CCMA, contact Marilyn Scholl at marilynscholl@cdsconsulting.coop or (802) 387-6013. For questions about or suggestions for the CCMA Conference, contact us by emailing masterhost@ncbaclusa.coop.
Visit ccma.coop for developing conference details!