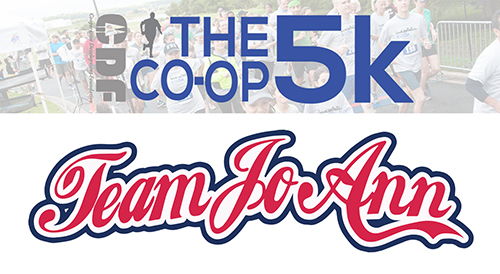 Inclement weather and flooding at Hains Point Park coupled with National Park Service permitting conflicts have resulted in the cancellation of the 2015 Co-op 5k.
However, the Cooperative Development Foundation is still celebrating Co-op Month by holding Virtual 5Ks at a number of sites over the next two weeks. During these events, Co-op 5K registrants can pick up race t-shirts, swag bags, sign the Team Jo Ann Banner and Notes to Jo Ann book, enjoy a snack and win prizes. Registrants will also have the opportunity to have their photo taken while wearing their Team Jo Ann race gear.
Please review the Virtual 5K events below to determine which one you should attend, and save the date now for next year's Co-op 5K, scheduled for October 1, 2016 at Hains Point Park in Washington, D.C.
VIRTUAL 5K EVENTSNRECA Conference Center
October 19, 9 – 10 am
Teams invited: NRECA High Voltage, Homestead Funds, National Grocers AssociationNational Rural Utilities Co-op Finance Corporation Crossroads Multi-Purpose Room
October 20, 9 – 11 am
Teams invited: Team CFC

National Cooperative Bank Runway Cafe
October 22, 2 – 3 pm
Teams invited: NCB Sole Shakers, Capital Impact Panthers

NCBA CLUSA Headquarters
October 26, 10 am – Noon
Teams invited: NCBA Non-Stop Co-op, ACDI/VOCA Globetrotters, CoBank Growing Rural America, CHS, Inc. Fast Farmers, USDA4Co-ops, individual runners

CDF extends special thanks to this year's race sponsors and participants and looks forward to seeing you at one of the upcoming Virtual 5Ks. If you have any questions, please contact CDF Events Manager Cassandra Durand at cdurand@cdf.coop or (202) 383-5445.

2015 CO-OP 5K SPONSORS