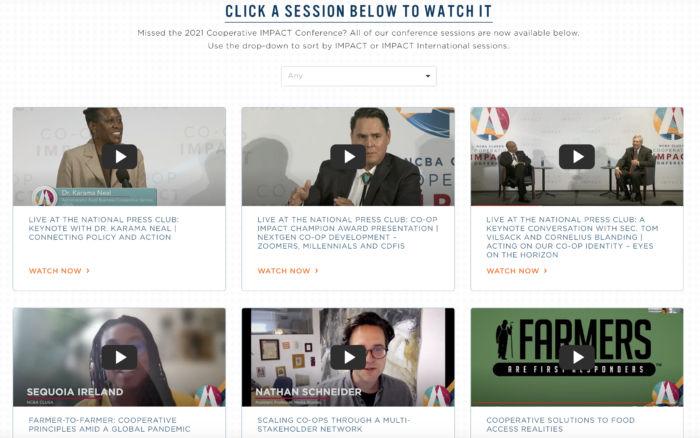 Drawing close to 700 cooperators together from around the world, NCBA CLUSA's 2021 Cooperative IMPACT Conference provided an unparalleled platform to reenergize the cooperative movement and expand the conversation around co-op identity. That theme linked two tracks, more than 50 hours of programming and 118 speakers across five days of programming that inspired learning and action.
Catch up on sessions you might have missed or want to rewatch through our new video archives page. The IMPACT 2021 video archive makes it easier for you to share your favorite sessions with all 50+ hours of programming now available.
IMPACT 2021 explored how our cooperative identity finds expression. Whether working to dismantle racism, build resilience in the face of climate change or preserve small businesses during a pandemic, last year reminded us that cooperatives have the greatest impact when cooperators live up to their identity.
Under the theme, "Embracing Our Co-op Identity," the 2021 Cooperative IMPACT Conference challenged cooperators everywhere to deepen their understanding of the values and principles that truly make cooperative enterprise unique.
This year's programming echoed that challenge. We explored the cooperative difference in home care, how worker cooperatives can pave the way to a just and equitable recovery, reimagining cooperative Appalachia, how the Colorado solar energy industry is providing a powerful approach to expanding the cooperative economy, and much more! Our dedicated international programming—available to development practitioners free of charge—covered entrepreneurship, climate change and co-op principles in practice. Made possible by the U.S. Agency for International Development (USAID), these sessions were sponsored by the U.S. Overseas Cooperative Development Council (OCDC) and its members.