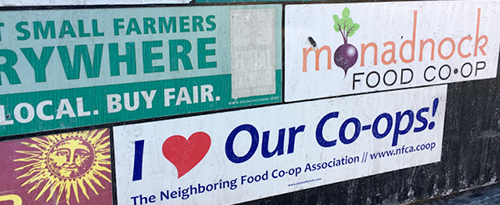 Celebrated by cooperatives nationwide during the month of October, National Co-op Month is an annual opportunity to raise awareness of a trusted, proven way to do business and build communities. The theme for this year's Co-op Month is "Co-ops Commit: Diversity, Equity and Inclusion," highlighting how co-ops are creating diverse, equitable and inclusive workplaces and boards, and how co-ops can better meet the needs of communities that have been excluded from economic participation and advancement. Cooperatives nationwide are encouraged to use this year's theme and logo in their communication and outreach activities this October.
Visit our co-op month website for resources
Governor Charlie Baker released an official proclamation declaring October 2020 as Co-op Month in Massachusetts. The Neighboring Food Co-op Association worked with partners at the Valley Alliance of Worker Co-ops and the Valley Co-operative Business Association to propose the proclamation recognizing the contribution of cooperative enterprises to the Commonwealth. Gov. Baker's proclamation follows resolutions by the U.S. Department of Agriculture, District of Columbia City Council, U.S. Senate, and House of Representatives recognizing October as National Cooperative Month 2020.