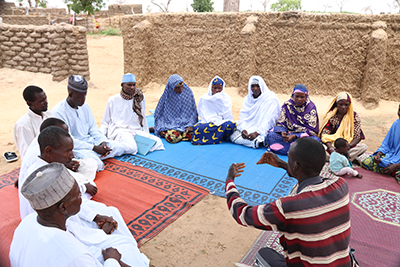 From more than 500 photos submitted across 11 topic areas, NCBA CLUSA's work with the USAID | REGIS-ER project in Niger won Agrilink's Governance and Policy Photo Challenge Category, showing what's possible when communities work together to build self-reliance and solve challenges.
The winning photo, shot by Communication Manager Sarah Crozier while on assignment in Niger, shows leaders from Gamba Village coming together for a Local Development Committee meeting. Representing different areas of expertise—from livestock rearing to conservation agriculture and water management—this formal process allows the group to discuss, prioritize, plan and find resources to address local development challenges. Leaders are democratically elected and then trained in topics of expertise and good governance techniques with support from the USAID | REGIS-ER project.
Local committees are then connected across a region through Citizen Working Groups to support and advise one another. In Gamba, the Local Development Committee worked with their commune-level Citizen Working Group to open the first ever health center in the area. You can read the full story here.
Two other NCBA CLUSA project photos were also finalists in the Nutrition and Education and Extension categories. See all the finalists and read about their stories in the Agrilinks Photo Challenge Flickr album.