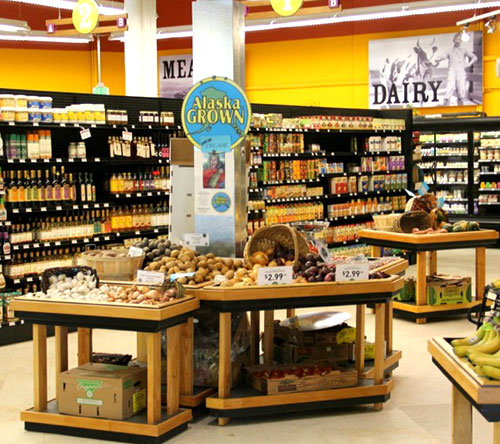 Food Co-op Initiative, a 501(c)(3) nonprofit, is the only national organization dedicated exclusively to supporting startup food co-ops. Its service enable hundreds of volunteer groups to improve access to healthy food and build local economies. FCI Executive Director Stuart Reid sent NCBA CLUSA this story about a cooperative milestone in Alaska:
The 2014 Food Co-op Startup of the Year goes to Co-op Market Grocery & Deli in Fairbanks, Alaska, Food Co-op Initiative (FCI) announced this week. Lauded for its leadership, retail excellence and commitment to building the local economy, Co-op Market beat out 12 other co-ops that opened storefronts since June of 2013.
The Startup of the Year award recognizes achievement by a retail grocery cooperative in organizing and opening a successful co-op grocery store. It was presented to Co-op Market's General Manager, Mary Christensen, at the annual Consumer Cooperative Management Association (CCMA) conference in Madison, Wisconsin in front of a crowd of more than 500 cooperative managers, staff, board members and consultants.
Organizers of Co-op Market Grocery and Deli began their co-op development in 2007 and opened their doors in March 2013. Co-op Market has experienced strong growth and far exceeded sales predictions, despite the many challenges of operating in Alaska. For example, the distance between the store and its suppliers means it often takes two weeks to receive ordered items. Today Co-op Market has 2,680 member-owners and its sales for 2014 are on track to reach $2.8 million.
"Fairbanks' Co-op Market is a role model for how an organized community can work together to create a cooperative business to meet its needs," FCI Executive Director Stuart Reid said as he presented the award.
"While more remote than any startup in modern history, it took advantage of the full support that we and the food co-op community have to offer, inspiring fellow Alaskan communities to do the same," Reid said. There are currently three new food co-op initiatives organizing in the state.
The Startup of the Year award is sponsored by CDS Consulting Co-op and coordinated by Food Co-op Initiative, a 501(c)3 organization dedicated to enabling a faster and more efficient startup process for communities that want to develop new retail grocery co-ops. Food Co-op Initiative provides consultation, training, grants and an online library of multimedia resources to startups.
There are currently 113 food co-ops in development across the nation, and 70 have opened in the past five years, totaling more than $155 million in annual sales, 1,006 new jobs and 88,000 members. Forty more co-ops have stated their intention of opening in the next 18 months.