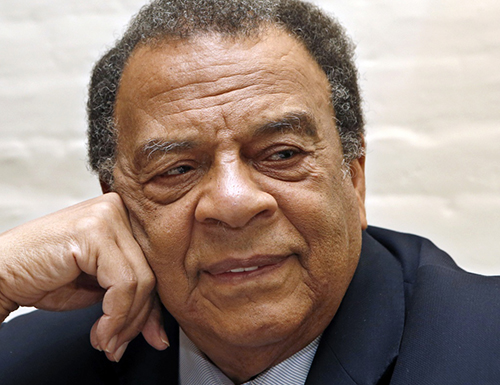 Tune in to Washington, D.C.-based WOL 1450 AM on Thursday, September 24, at 10:30 a.m., for Everything Co-op, hosted by Vernon Oakes. This week Oakes interviews Ambassador Andrew Young, principal and founder of the Andrew J. Young Foundation, which promotes more just and prosperous communities in the U.S. and globally by developing and supporting a new generation of leadership for a multicultural world. Oakes and Ambassador Young will discuss the role he and his foundation have played in advancing the cooperative business model to create economic security for everyone, as well as upcoming work to improve lives and restore dignity.
From his ordination as a minister to his work on behalf of civil and human rights, along with his public service career as a member of Congress, U.S. Ambassador to the United Nations and Mayor of Atlanta, Young has always answered the call to serve. Today, the Andrew J. Young Foundation builds on his legacy by developing and nurturing a new generation of innovative leaders to tackle today's global challenges.
Young has shared his life's work in three books: "A Way Out of No Way: The Spiritual Memoirs of Andrew Young," "An Easy Burden: The Civil Rights Movement and the Transformation of America," and "Walk in My Shoes: Conversations between a Civil Rights Legend and his Godson on the Journey Ahead," which was co-authored by Kabir Sehgal.
Oakes is president of Oakes Management, Inc. As president, he has renovated and managed his own properties, along with those owned by other entities since 1985. Oakes is the immediate past president of the National Association of Housing Cooperatives, and serves on several boards to advance the interests of cooperatives. He formerly served as coordinator of the MBA program at Howard University, and is an MBA graduate of Stanford University. Oakes has used his business acumen to benefit the community by providing quality housing across all populations and serving as a consummate advocate for cooperatives.
To listen to Oakes' interview with Young live online, click here. To listen on your mobile device with Tune-in Radio, click here. Everything Co-op is produced by Pat Thornton and sponsored by National Cooperative Bank.
WOL 1450 is a Washington, D.C.-based news and talk radio station and the flagship radio station of Radio One, Inc., an urban-oriented, multimedia company primarily targeting African American and urban listeners.