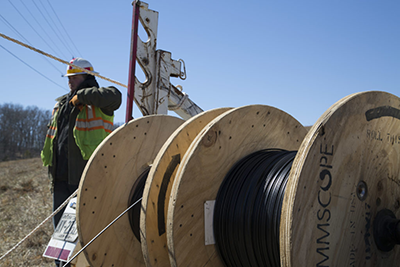 About $20 billion in federal funds may be available as early as next year for electric cooperatives pursuing broadband service in rural America.
A new auction, dubbed the Rural Digital Opportunities Fund (RDOF), is expected to offer up to $20.4 billion to build broadband in unserved or underserved census blocks identified by the Federal Communications Commission.
RDOF will be a huge encore to the FCC's $2 billion Connect America Fund II auction in 2018. CAF II marked the first time that electric co-ops were allowed to bid in such an auction, and about 35 co-ops won over $225 million, which will be distributed over 10 years.
The National Rural Electric Cooperative Association (NRECA) is urging the commission to expedite rules for the RDOF so the auction can be held in 2020 and not pushed back to a later date.
"The RDOF presents an unparalleled opportunity for electric cooperatives interested in deploying broadband to their communities," said Brian O'Hara, NRECA regulatory issues director for telecom and broadband.
"Electric cooperatives accounted for about 30 percent of all winning CAF II bids. A majority of these co-ops are deploying gigabit networks, which is about 1,000 times faster than FCC-defined broadband," he said. "We will be working to build on that success with the FCC to ensure our members can compete and succeed in the next auction."
NRECA, along with America's Communications Association and NTCA–The Rural Broadband Association, asked the FCC in a May 9 letter to fast-track its efforts for the new auction.
The trade groups also recommended that the FCC use the most current information to determine where high-speed internet access remains unavailable. "[B]y using the latest [semiannual] Form 477 data in conjunction with a robust challenge process, the commission can more accurately identify unserved census blocks and target support to where it is needed," the groups told the FCC.
"NRECA looks forward to the FCC opening a proceeding to establish the rules for the RDOF auction and will be actively involved at the agency in helping shape the rules," O'Hara said.
The FCC holds a broadband benchmark of 25 megabits per second download/3 Mbps upload, according to its 2018 Broadband Deployment Report.