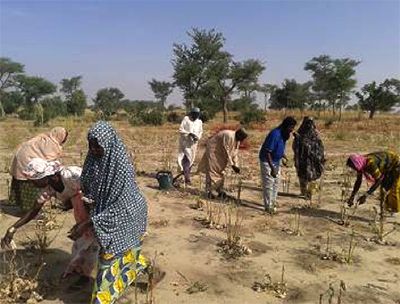 Like many women in Niger, Amina Abdoul Wahab, from Tilla village, does not own land, but she is still responsible for feeding her family and collecting water and firewood daily.
In many parts of the world, women do not have access to land. To give women the opportunity to support themselves, the USAID-funded REGIS-ER project, implemented in Niger by NCBA CLUSA, is convincing community leaders and chiefs to allocate degraded land to women's groups. Armed with tools and strategies to rehabilitate the farms through training from REGIS-ER, the women can use the land to produce nutritious crops for their families and earn income.
Bio-reclamation of degraded lands (BDL) takes an agricultural challenge and turns it into an opportunity for women to build resilience in their communities. In Niger's Zinder region, 30 women from Tilla village are doing just that.
In 2015, members of Tilla's women's association learned how to increase the productivity of degraded lands through simple techniques for water collection and retention. Impressed by the 2014 results of a BDL site from a neighboring village, the women solicited REGIS-ER backing to organize themselves into a strong interest group, applying for their village's BDL parcel, which they knew they could reclaim and add value using BDL techniques. With support from NCBA CLUSA, their united advocacy efforts succeeded in convincing the chief of the village to loan them a 3.7-acre plot for a three-year period.
Using BDL techniques, the group of 30 women grew drought-tolerant crops, with the initial provision of seeds and agriculture inputs like fertilizer from REGIS-ER. Easy to implement, the combination of water catchment and agroforestry strategies improved both the women's income and their family's nutrition, while also upgrading their social status.
The women grew okra, moringa, hibiscus, senna and sesame. Yields from the harvest have been outstanding—in fact, yields for okra, hibiscus and sesame have been almost double the average for the region.
"Eight dry measures of okra are still left, despite my family's consumption throughout the season. Currently, you can sell one measure of okra for USD $4.14 (2,500 CFA) on the local market, so we can already earn $33.09 (20,000 CFA) just out of okra," Amina said. That profit is about one month's salary for an average Nigerian, according to World Bank data.
The BDL site was named "gona mata," or "women's parcel." Still, many husbands came out to offer a helping hand. "Because the work is a bit tough," said Ado, Amina's husband, "and we want to see them succeed in this initiative." Where men gather at the mosque and women usually gather at the well, the BDL site became a true "exchange space between men and women," Ado added.
The BDL site is also a public asset for the entire village. All the women of the village—even those who don't have a parcel on the site—can go and take some okra or hibiscus leaves from the site to cook a nutritious dish called "tapché".
Working together, the women are confident that they have a sustainable piece of land. Using the profits from their harvest, they are considering purchasing the land to continue the investment beyond the life of the project. Under new techniques and training from REGIS-ER, what was once degraded land is producing high yields and bringing a community together.