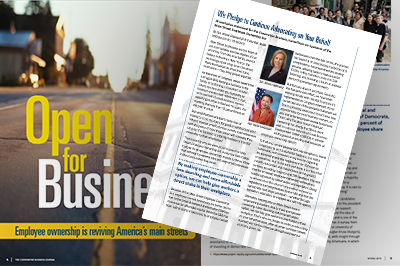 In August 2018, the biggest employee ownership legislative victory in two decades was signed into law. Championed by Sen. Kirsten Gillibrand (D-NY) in the Senate and Rep. Nydia Velázquez (D-NY, 7th District) in the House, the bipartisan Main Street Employee Ownership Act amended longstanding inequities in how the Small Business Administration (SBA) administers loans to Employee Stock Ownership Plans (ESOPs) and worker cooperatives. Now, in the new issue of the Cooperative Business Journal, Gillibrand and Velázquez are pledging to continue advocating on behalf of the cooperative community. 
Read their exclusive statement, republished below, and be sure to check out the full issue, too. 
Main Street businesses are the heart of our communities and the engines of our economy. From the local family-owned bakery in Brooklyn, New York to the technology repair shop down the street, these businesses do more than serve customers—they bring people together.
As Members of Congress, we've heard time and again that keeping a business in the family or sustaining a storefront on Main Street can be a challenge, especially as business owners near retirement. In fact, with over half of small business owners expecting to retire in the next 10 years, it is startling that less than 15 percent have an exit plan in place.
But what if retirement didn't mean fear of having to close the doors for good or sell the business? What if, instead, small business owners eyed retirement with the peace of mind that comes with knowing they can pass the business to a family member or transfer ownership to their employees?
That is exactly why we were proud to pass the Main Street Employee Ownership Act, a new law that makes it easier for employee-ownership models to thrive. A law that will help to preserve jobs and keep small businesses in the communities they serve.
By making employee-ownership a less daunting and more affordable option, we can help give workers a direct stake in their workplace.
Because of the Main Street Employee Ownership Act, employee-owned businesses are better able to turn to the Small Business Administration (SBA) as an avenue for affordable capital. While the SBA has been authorized to make loans to employee-owned businesses since the late 1970s, the process has been full of unnecessary roadblocks and complications. We streamlined the lending process, allowing back-to-back loans for ESOPs, rolling transition costs into SBA financing, and providing a forum to address personal guarantee requirements.
But the task doesn't end there. Since the law has gone into effect, we have been working closely with the SBA to ensure it's implemented as Congress intended. It's no secret that one of the greatest challenges we face is spreading awareness about these new opportunities for small business owners, co-ops, and other employee-owned businesses. That's why the Main Street Employee Ownership Act directs the SBA to work with its national network of Small Business Development Centers (SBDCs) to provide on the ground counseling and resources on employee-ownership options.
To that end, we are pleased SBA was receptive to recent Congressional and stakeholder feedback, and held a nationwide, web-based listening session regarding the personal guarantee requirement for 7(a) loans to cooperatives. But, it shouldn't end there. It is critical that industry advocates and stakeholders on the ground continue providing Congress and SBA feedback. The next step for increased employee ownership will require a holistic approach by stakeholders and legislators. Doing so ensures that the voice of cooperatives is heard as regulations are being finalized by the SBA and that the appropriate next steps are taken—whether through legislation, education, or engagement with the agency.
Ultimately keeping jobs on Main Street means empowering workers. And by making employee-ownership a less daunting and more affordable option, we can help give workers a direct stake in their workplace. That's why we pledge to continue advocating on your behalf because, after all, when our Main Streets succeed, our communities are strengthened and our economy grows.