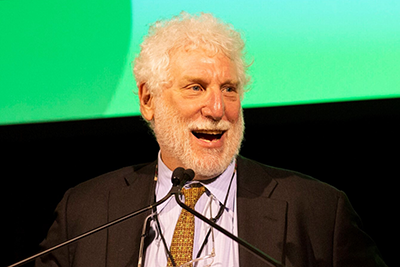 Tune in to WOL 1450 AM and Tune-in Radio, on August 26, 10:30 am, for Everything Co-op, hosted by Vernon Oakes. Join Everything Co-op, as we kick-off our tribute to the 2021 Cooperative Hall of Fame Inductees, with Andrew Reicher, Executive Director of Urban Homesteading Assistance Board (UHAB). Vernon and Andy will discuss his life's work in the cooperative movement.
Andrew Reicher has devoted his entire career to improving the lives of people struggling to rise from poverty through access to stable, affordable housing. Andy's efforts have helped create programs within the New York City government crucial to fostering the development of housing cooperatives for low-income New Yorkers. Through his leadership at the Urban Homesteading Assistance Board (UHAB), Andy has brought homeownership to thousands of city residents and is generous in sharing his expertise with others in the U.S. turning to the cooperative model as a source of homeownership for low-income residents.
For nearly 40 years, New York City contracted with UHAB to provide technical assistance to income-restricted cooperatives going through Tenant Interim Lease program. Under Andy's leadership, programs for accounting and bookkeeping assistance, pre-paid legal assistance and training and education programs from how to run a heating system and boiler to how to run an efficient meeting were developed. More recently, Andy has steered UHAB's programs towards climate and social justice goals through access to share loans and expanded use of renewable energy in low-income communities and communities of color.
Because of Andy's selfless dedication, constant innovation, and high achievement, low-income housing cooperatives in New York City exist and thrive. Strongly rooted in the communities he serves, Andy's insight, experience, and tireless efforts has had a lasting and profound impact on the lives of thousands.